We've had several opportunities to refine GeoGit workflows in real-world situations, but among the most fulfilling was assisting with the response to Typhoon Yolanda (also known as Typhoon Haiyan) in the Philippines. It was the strongest cyclone to make landfall in recorded history, resulting in an urgent need to share data about the damage to help with recovery and reconstruction.
To meet this need, the Global Facility for Disaster Reduction and Recovery (GFDRR) teamed up with the American Red Cross and the Humanitarian OpenStreetMap Team (HOT) and launched an open data platform to gather and share data about Yolanda. The ROGUE project, which helps develop GeoGit, was asked to help manage and distribute extracts of OpenStreetMap data. As described below, we created a powerful bidirectional workflow with OpenStreetMap that enabled us not only to derive and publish up-to-date data for response and recovery efforts but also to contribute back to OpenStreetMap.
Importing OpenStreetMap Data
Thanks largely to HOT's efforts, a large number of damaged and destroyed buildings were mapped into OpenStreetMap using commercial satellite imagery distributed under the Next View license or the State Department's Imagery to the Crowd program. GeoGit was used to extract data from OpenStreetMap and transform it into formats more useful to traditional GIS applications.
While GeoGit supports reading and writing from OpenStreetMap data in a variety of ways, the Yolanda efforts started with the daily .pbf downloads from geofabrik that were then imported into a GeoGit repository using the geogit osm import command. This initial import command brings the data into the standard node and way layers in a GeoGit repository with all of the OpenStreetMap tags attached to each feature. During the initial few imports we were able to find and solve some performance bottlenecks that reduced the import time from over an hour to just a few minutes.
Mapping to a Schema
Once imported, the geogit osm map command was used to map the data into more traditional sets of layers, using the tags as attributes. A JSON mapping file specifies which tags were used to separate out the features into layers and assign attributes to each feature.  The key mapping involved taking nodes and ways tagged with typhoon:damage=yes and translating those into damage_polygons and damage_line layers with associated attributes. Over the course of mapping the data, we were able to make improvements to the codebase and workflow in several areas.
Sharing Up-to-Date Data
Once the repository had the data organized into the right schema, we used the geogit export pg command to load snapshots into a PostGIS database and serve them to the web. Since we wanted to provide the most current data, we used the geogit osm apply-diff command to update the repository with daily updates from OSM planet. This ensured that our repository always reflected recent edits and that layers were exported and updated on the site.
Contributing Back to OpenStreetMap
In addition to staying in sync with the global OpenStreetMap planet, GeoGit made it possible to change layers in our repository and apply them back to OpenStreetMap — enabling a fully round-trip or bidirectional workflow. For example, we found many misspellings or inconsistent use of tags in the data where able to correct them. We fixed these issues against our PostGIS snapshot, applied the changes back to the repository, generated a changeset using the geogit osm create-changeset command, and finally uploaded the changeset using JOSM. In the process, we were once again able to improve these functions based on real-world usage.
GeoGit Advantages
These tools enable a powerful bidirectional workflow with OpenStreetMap. We demonstrated that data can be imported from OpenStreetMap into a local repository, mapped into a set of layers with a well-defined schema, and served via OGC services. Repositories can be kept in sync with OpenStreetMap over time and, if changes are made to the local repository, GeoGit enables us to produce changesets that can be contributed to the global OSM dataset. Using this same workflow, it becomes possible for users to effectively work with a local extract of OSM data for both making and applying local edits as well as incorporating upstream changes.
For more to know about all these above we have to wait until 13th April where Jeff Johnson will present more about GeoGit-based OpenStreetMap import workflows  at State of the Map US.
A map is a visual representation of an area – symbolic depiction highlighting relationships between elements of that space such as objects, regions, and themes. Many maps are static two-dimensional, geometrically accurate (or approximately accurate) representations of three-dimensional space, while others are dynamic or interactive, even three-dimensional. Although most commonly used to depict geography, maps may represent any space, real or imagined, without regard to context or scale; e.g. brain mapping, DNA mapping and extraterrestrial mapping.
Although the earliest maps known are of the heavens, geographic maps of territory have a very long tradition and exist from ancient times. The word "map" comes from the medieval Latin Mappa mundi, wherein mappa meant napkin or cloth and mundi the world. Thus, "map" became the shortened term referring to a two-dimensional representation of the surface of the world.
Maps have become a critical piece of our lives. Providing guidance, direction, help and more, maps now serve as an integral information source for us every day. Maps provide value to our Internet experiences, and have become essential in the mobile world.
People used to use maps so they wouldn't get lost. But in recent years, access to the Global Positioning System and the proliferation of mobile technology have made paper-based maps almost irrelevant. Unless you're in uncharted territory, it's hard to get lost anymore. Basic geography is as easy as inputting an address and letting your mobile phone tell you how to get there.
And as mapping technology advances, it allows for far more than foolproof directions. Federal agencies now use geospatial data, geo-analytics and multi-layered maps for myriad purposes, including gathering intelligence, predicting disease outbreaks and sharing data pools with the public.
The allure of mapping lies in its intuitiveness. Even simple "dots on a map can be a powerful way to see trends in data," said Josh Campbell, geographic information system architect for the Humanitarian Information Unit at the State Department. "Maps are a compressed mechanism for storytelling."
Last year,HIU created a series of maps to track the mass migration of Syrians displaced by the country's ongoing violence. The HIU team combined data from thousands of media and internal reports with commercial satellite imagery. Each map provided a geographical snapshot of a place. Together, they showed trends over time and revealed the areas with the most intense conflict.
That is perhaps the most important aspect of maps: They make for better decision-making. Maps gain their value in three ways:
As a way of recording and storing information
Governments, businesses, and society as large must store large quantities of information about the environment and the location of natural resources, capital assets, and people. Included are plat, parcel, and cadastral maps to record property, maps of society's infrastructure or utilities for water, power, and telephone, and transportation, and census maps of population.
As a means of analyzing locational distributions and spatial patterns
Maps let us recognize spatial distributions and relationships and make it possible for us to visualize and hence conceptualize patterns and processes that operate through space.
As a method of presenting information and communicating findings
Maps allow us to convey information and findings that are difficult to express verbally. Maps can also be used to convince and persuade, or even propagandize.
US State's Humanitarian Information Unit collects, analyzes and disseminates unclassified information regarding humanitarian emergencies, and publishes high-quality maps that track relevant variables such as refugee migration and global health initiatives. The HIU team consists of roughly 20 analysts, researchers, geospatial analysts, cartographers and developers under the department's Office of the Geographer and Global Issues.
The team is known for its accuracy, and HIU's maps are widely cited by the media. But the work is intensive. In 2013, the team was particularly busy tracking the civil war in Syria. To document the migration of refugees, analysts pooled data from media reports, commercial satellite imagery and internal documents. Then subject-matter experts sifted through the data to ensure its legitimacy, technical staffers built corresponding datasets, GIS analysts compiled the data, and cartographers produced the finished products.
Some maps showed the displacement of refugees over time while others mapped the escape routes and destinations of the 1.8 million Syrian refugees, including the hot spots from which they fled, where they went and where the humanitarian resources were located. The maps gave decision-makers valuable insight into the conflict from a humanitarian standpoint.
"Maps unlock a great cognitive power," Josh Campbell, GIS architect at HIU said. "Visualization, whether graphical or geographical, simplifies complex relationships. Maps can help people make sense of complex humanitarian emergencies and understand what is happening on the ground."
http://fcw.com/
In early 2012, the Environmental Protection Agency (EPA)'s Office of Water began an effort to simplify how it conveys the complex information it has collected for decades.
Nine months later, the agency launched a map-based application called "How's My Waterway?" that allows users to check pollution levels in almost any U.S. lake, river or other waterway via the Web. The project's launch coincided with the 40th anniversary of the Clean Water Act, which requires states to report data on waterways to the EPA. The agency in turn periodically updates Congress on the condition of the nation's waterways.
That data has always been available to the public, but until "How's My Waterway?" it was compiled in technical databases and used mainly by scientists who knew what it meant and how to access it.
Now anyone can input a ZIP Code or select his or her current location from any Web-connected device and receive basic information on whether a waterway is polluted and when it was last assessed. Users can move around the map to other waterways or click on a specific one to get more details, such as the nature of the pollutants and what is being done to mitigate the problem — all of which is presented in terms that the average user can understand.
The tool has been so popular that in the weeks right after its launch, the high volume of users caused the site to crash several times, said Doug Norton, senior environmental scientist in the Office of Water. Tens of thousands of people now use the application on a regular basis, with rates that fluctuate depending on the season and weather.
In short, mapping technology "proved to be a terrific mode of communication in getting points across and informing the public," Norton said.
It was also cost-effective because it did not require a lengthy procurement process. Instead, a team of 12 watershed scientists, public outreach experts and coders used existing data and worked with the contractor that managed EPA's technical database.
With mapping firm Esri's new software development kit, launched Wednesday, developers can create complex, polygonal "geofences" that trigger actions when people enter or leave them.
A restaurant chain could, for example, use its app to send a push notification to customers that walk close to one of its locations. Or it could notify employees when a customer who ordered delivery arrives to pick up her meal.
Esri snapped up location-focused startup Geoloqi in late 2012. The new "Geotrigger" SDK is the fruit of that acquisition: It enables iOS and Android developers to add more sophisticated location-based features to their mobile applications.
"Geotrigger Service opens up a whole world of use cases, from stores wanting to engage customers to cities wanting to release an app to send civic alerts, local event information, or tourism info," said Amber Case, Geoloqi's founder and head of Esri's R&D center, in a statement. "Create an invisible button on a map, and when your phone gets within that button — that invisible region — something will happen. Your phone could even turn the lights on in your home as you pull into the driveway, and turn them off when you leave."
Esri also promises that its SDK minimizes the amount of time GPS and cellular chipsets need to be active, minimizing battery usage. Battery drain has been a barrier to the adoption of location-based features in mobile apps.
The service costs developers a tiny amount per geotrigger event. For more details, check out the video.
---
On April 14-15, Esri's fourth annual VentureBeat Mobile Summit will tackle the six biggest growth opportunities in mobile today. The invitation-only Summit will gather the top 180 executives at the scenic Cavallo Point Resort in Sausalito, Calif
Why Use GIS?
When floods in Colorado caused massive damage throughout the state in September 2013, geographic information systems (GIS) and web maps integrated current data, providing a comprehensive view of the constantly evolving situation to government officials and the public.
An interactive public information map posted by Esri, a GIS software company, showed observed flooding, flood warnings, and precipitation and collected citizens' observations that had been shared on Twitter, Flickr, and YouTube. Other government agencies generated interactive web maps that shared information on flooded areas, closed roads, and shelters for evacuees. The City of Longmont created a story map that documented the flooding of the St. Vrain River and Left Hand Creek.
These maps are examples of how GIS has gone from a technology that is nice to have to one that is essential, especially for small- to medium-size jurisdictions dealing with increasing demands and depleted resources.
Established but Evolving
What is GIS?
It is an information system for capturing, managing, analyzing, and displaying geographically referenced data.
With GIS, data can be viewed, understood, interrogated, interpreted, and visualized on a map in ways that reveal relationships, patterns, and trends that would not be apparent otherwise. GIS technology can be integrated into any enterprise information system framework and works with common business tools such as Microsoft Excel and IBM Cognos.
GIS is nothing new to many jurisdictions. Beginning in the 1990s, it was implemented in departments such as planning and health. Initially, it often was acquired for a specific project; later, the use of GIS expanded to improve many processes in a department. The benefits of GIS — cost savings and increased efficiency, better decision-making, improved communication, and better record keeping — encouraged the spread of its use across organizations. Public works, planning, land records, facilities management, utilities, transportation, water, wastewater, health and human services, elections, environmental management, economic development, and public safety are just a few of the disciplines in municipal government that use GIS.
Since its initial adoption, GIS technology has evolved from a desktop application to a web-centric platform. While supporting the work of GIS professionals on desktop machines, the web platform makes the benefits of this work available throughout the organization through maps and apps that are stored and accessed from a cloud-based system. This web-centric approach also makes the most current imagery, traffic, and weather data available for use with a jurisdiction's local data.
Doing More with Less
Even as municipal governments recover from the recent recession, they must deal with tighter budgets and fewer staff members. The need to deliver services in an efficient and cost-effective manner is greater than ever.
Residents expect services from their municipal government, whether a small town or a big city. Small to medium-sized municipalities provide these services with far fewer resources than their bigger counterparts. Many jurisdictions are turning to technology, specifically GIS, to better deliver services to citizens. Governments have expanded the used of GIS to improve not just the way a government works, but the way it works for citizens.
For decades, the entire water system for Princeton, Ill., was documented in a small, carefully guarded sketchbook known as "the Bible." To respond to emergencies as well as perform routine maintenance, city staff needed access to that information. They also needed a current inventory of the water system infrastructure to support field workers.
However, the city, with a population of just under 8,000, did not have extensive staffing to meet these goals. With the help of a consultant, the original pages were scanned and that information was incorporated into a GIS. The 4,600 photographs documenting the system's components were added and geocoded, and this information moved to a cloud-based GIS. Now the information contained in the original documents not only has been backed up and updated with the current inventory, but is accessible directly by crews in the field responding to system issues.
Seeing the Big Picture
Interactive web maps provide information in context. They also make the results of GIS analysis available to policy makers without requiring that they become proficient with GIS technology.
Operation dashboards fed by GIS that are automatically updated use maps and charts to monitor, track, and report events. Incorporating live feeds allows the most current data to be visualized and comprehended by knowledge workers and executives.
Government That Works for Citizens
People are now more connected to each other through the web and social media such as Facebook and Twitter. They have come to expect that they can use those same tools to connect to businesses and, increasingly, government. This has been part of a change in the relationship between government and the governed in recent years. Increasingly, citizens lack both the time and inclination to travel to government — they want and expect government to be available and responsive to them.
GIS has helped governments meet these new demands. A Florida city of just 16,000 residents incorporates GIS in a portal that makes its permitting process convenient and transparent to citizens. When the City of Marco issues a new building permit, citizens receive a tweet with information on the permit, with a link to a copy of the permit, and a map of the permit location, as well as other information in the Citizen Access Portal. A real-time database, the portal keeps track of permit and inspection data, relating proposed activity to the existing built environment and landscape.
Web maps are also an effective tool for communicating government operations and programs. For example, mapping capital improvement projects lets citizens know where, when, and how money is being spent on these projects. Direct access to this information promotes transparency and accountability, which in turn builds confidence in government.
In effect, GIS also has added many more eyes to government oversight by enlisting the help of citizens. With smartphone-based, map-centric apps, municipal governments can tap into the power of crowdsourcing by enabling citizens to report problems such as potholes, graffiti, and other concerns. The GPS capabilities in smartphones furnish location information to the app. Citizens fill out the app's simple form describing the problem and can upload photos of it. Once reported, an incident can be monitored, letting the responding citizen and others track the resolution of that problem. This encourages government responsiveness and demonstrates accountability.
More Than Just Mapping
With the migration of GIS to the web, governments can use GIS-generated maps, apps, and data to improve business processes and inform decision-making. This helps keep communities both safe and sustainable. The advantages of using a geographic framework are not limited to large cities and counties — they are equally available to smaller municipal governments. Web-centric GIS helps small to medium-sized municipal governments be responsive, transparent, and accountable. It encourages citizens to stay informed and engaged with their government.
By Ian Isaacs, Esri regional manager
কোন তারা খসে গেছে আকাশ কি এসব মনে রাখে। খসে যাওয়া তারার মত খসে যাওয়া মানুষ-গুলোকে আমরা কি মনে রাখি? যদি রাখিই তবে কতদিন ? মানুষ মরে যায় কাঁদে শুধু তাঁরাই, যারা নির্ভরশীল। জীবিত নির্ভরশীলদের জন্য মৃত্যুটা হয়তোবা মৃত ব্যক্তির চেয়েও বড় বেশী ভয়ংকর। আমার চাচাত ভাই আবু বকর এর জন্য এখন সময়টা বড় বেশী ভয়ঙ্কর। হ্যাঁ আমার একমাত্র বড় চাচা মোস্তফা কামাল সিভিয়ার স্ট্রোক করে গত পরশুদিন রাত ১০টায় মারা গিয়েছেন। তার মৃত্যু আমার জন্যও আতংকের, কারন বড় ভাইয়ের মৃত্যু আমার বাবাকেও অর্ধেক করে দিয়েছে, তিনি ভেউ ভেউ করে কাঁদছেন। এ ছিন্নতা যে চিরদিনের, এ হারানোতো  জীবনের তরে। বাস্তবতা বড়ই নিঃষ্ঠুর, মৃত্যুর পূর্ব মূহুর্তে নাকি প্রিয় আপন মানুষগুলোকে দেখতে ইচ্ছে হয়, কাছে পেতে ইচ্ছে হয়। চাচার মৃত্যুর সময় শুধু তার একমাত্র অল্প বয়স্ক ছেলে আবু বকর কাছে ছিল, কিন্তু ছিলনা একমাত্র প্রিয় ছোট ভাই মোজাম্মেল। অসুস্থ থাকায় আমরাও তাকে ছাড়তে পারিনি জানাজায় শরীক হবার জন্য। শোকের সাথে সাথে ১২ ঘন্টার দীর্ঘ বাস জার্নি হয়তো তার সইত না।
…………………… মৃত্যু কি ?? শাব্দিক ভাষায় মৃত্যু (Death) বলতে জীবনের সমাপ্তি বুঝায়। জীববিজ্ঞানের ভাষায় প্রাণ আছে এমন কোন জৈব পদার্থের (বা জীবের) জীবনের সমাপ্তিকে মৃত্যু বলে। অন্য কথায়, মৃত্যু হচ্ছে এমন একটি অবস্থা (state, condition) যখন সকল শারিরীক কর্মকাণ্ড যেমন শ্বসন, খাদ্য গ্রহণ, পরিচলন, ইত্যাদি থেমে যায়। কোন জীবের মৃত্যু হলে তাকে মৃত বলা হয়।
মৃত্যু বিভিন্ন স্তরে ঘটে থাকে। সোমাটিক মৃত্যু হল সামগ্রিকভাবে কোন জীবের মৃত্যু। নির্দিষ্ট অঙ্গ, কোষ বা কোষাংশের মৃত্যুর আগেই এটি ঘটে। এতে হৃৎস্পন্দন, শ্বসন, চলন, নড়াচড়া, প্রতিবর্ত ক্রিয়া ও মস্তিষ্কের কাজকর্ম বন্ধ হয়ে যায়। সোমাটিক মৃত্যু ঠিক কখন ঘটে তা নির্ণয় করা দুরূহ, কেননা কোমা, অজ্ঞান হয়ে যাওয়া, এবং ঘোর বা ট্রান্সের মধ্যে থাকা ব্যক্তিও একই ধরনের বৈশিষ্ট্য প্রকাশ করে থাকেন। সোমাটিক মৃত্যুর পর অনেকগুলি পরিবর্তন ঘটে যা থেকে মৃত্যুর সময় ও কারণ নির্ণয় করা যায়। মারা যাবার পরপরই পার্শ্ববর্তী পরিবেশের প্রভাবে দেহ ঠান্ডা হয়ে যায়, যাকে বলে Algor mortis। মারা যাবার পাঁচ থেকে দশ ঘণ্টা পরে কংকালের পেশীগুলি শক্ত হয়ে যায়, যাকে বলে Rigor mortis, এবং এটি তিন-চার দিন পরে শেষ হয়ে যায়। রেখে দেয়া দেহের নীচের অংশে যে লাল-নীল রঙ দেখা যায়, তাকে বলে Livor mortis; রক্ত জমা হবার কারণে এমন হয়। মৃত্যুর খানিক বাদেই রক্ত জমাট বাঁধতে শুরু করে। আর তারপরে দেহের যে পচন শুরু হয়, তার জন্য দায়ী এনজাইম ও ব্যাক্টেরিয়া।
দেহের বিভিন্ন অঙ্গপ্রত্যঙ্গ বিভিন্ন হারে মারা যায়। সোমাটিক মৃত্যুর ৫ মিনিটের মধ্যেই মস্তিষ্কের কোষগুলির মৃত্যু ঘটে। অন্যদিকে হৃৎপিণ্ডের কোষগুলি ১৫ মিনিট এবং বৃক্কেরগুলি প্রায় ৩০ মিনিট বেঁচে থাকতে পারে। এই কারণে অঙ্গ-প্রত্যঙ্গ সদ্যমৃত দেহ থেকে সরিয়ে নিয়ে জীবিত ব্যক্তির দেহে প্রতিস্থাপন করা সম্ভব (সূত্রঃ উইকিপেডিয়া)।
মৃত্যু জগতটা আসলে কেমন ?? জীবিত কোন মানুষই কখনও জানতে পারবে না এই অনুভুতি, এ এমনই এক শ্বাশ্বত ব্যাপার। হুমায়ূন আহমেদ এর উদ্ধৃতি দিয়েই বলি ঃ "মৃত্যুকে অস্বীকার করার কোনো উপায় নেই। আমরা যে বে্ঁচে আছি এটাই একটা মিরাকল। অন্য ভুবনের দিকে যাত্রার আগে আগে সবাই প্রিয়জনদের দেখতে চায়। মৃত্যুর সময় পাশে কেউ থাকবে না, এর চেয়ে ভয়াবহ বোধ হয় আর কিছুই নেই।শেষ বিদা্য় নেয়ার সময় অন্তত কোনো একজন মানুষকে বলে যাওয়া দরকার।নিঃসঙ্গ ঘর থেকে একা একা চলে যাওয়া যা্য় না, যাওয়া উচিত নয়।এটা হৃদ্য়হীন ব্যাপার।"
মৃত্যুর পূর্বে ফরাসি লেখক কবি ও নাট্যকার ভিকটর হুগো নাকি মৃত্যু কি তা দেখে গেছেন। তিনি সেটিকে কালো রঙ্গের আলো বলে আখ্যায়িত করেছেন। সাহিত্যিক ও হেনরি (উইলিয়াম সিডনি পোর্টার) মৃত্যুকে বাড়ি ফেরার সাথে তুলনা করেছেন। মৃত্যুর পূর্ব মুহুর্তে তার চরম আকুতি ছিল , "আলোগুলো জ্বালিয়ে দাও। অন্ধকারে আমি বাড়ি ফিরতে চাই না।"
স্বাভাবিক ভাবেই মৃত্যু নিয়ে আছে সকলেরই ভয়। যারা পরকাল বা বেহেশত- দোজখ বিশ্বাস করেন না তাদেরও আছে মৃত্যুভীতি। যদিও নতুন একটি বৈজ্ঞানিক তত্ত্ব বলছে মৃত্যুই জীবনের চূড়ান্তরূপ নয়।
কোয়ন্টাম পদার্থবিদ্যা বলছে, কোনো ঘটনার সবদিক একবারে হিসাব করা যায় না। বরং কয়েকটি ভিন্ন সম্ভবনায় ভাগ করে একটাকে অনির্দিষ্ট ধরে আরেকটা সম্ভাবনা যাচাই করতে হয়।  কিছু মানুষ অবশ্য মৃত্যুকে ভয় পাননি, মেনে নিয়েছেন হাসি মুখে। মৃত্যু মূহুর্তে যুক্তরাষ্ট্রের প্রেজিডেন্ট এন্ড্রু জ্যাকসন আপনজনদের বলেছেন, "আহা, কান্না করো না। ভালো মানুষ হও, দেখা হবে স্বর্গে।" বিবর্তনবাদের প্রবর্তক ডারউইন তার মৃত্যুর পূর্বে ঘোষণা দিয়ে গেলেন যে তিনি মৃত্যুকে বিন্দুমাত্র ভয় পাচ্ছেন না। কিংবদন্তী বিপ্লবী চে গুয়েভারা মৃত্যুর পূর্বে জানিয়ে গেলেন যে, মৃত্যু কেবল মানুষকে শেষ করে, বিপ্লবকে নয়। কিন্তু রবীন্দ্রনাথ ঠাকুর "মৃত্যু পরে"  কবিতায় বলে গেছেন মৃত্যু মানেই সব কিছুর শেষ, সব কিছুরঃ
"আজিকে হয়েছে শান্তি, জীবনের ভুলভ্রান্তি, সব গেছে চুকে।
রাত্রিদিন ধুক ধুক, তরঙ্গিত দুঃখসুখ, থামিয়াছে বুকে।
যত কিছু ভালোমন্দ, যত কিছু দ্বিধা দ্বন্দ্ব, কিছু আর নাই।
বলো শান্তি, বলো শান্তি, দেহ সাথে সব ক্লান্তি, হয়ে যাক ছাই।",
 হযরত মোহাম্মদ (সঃ) বলেছেন, "আল্লাহ তাআলা মৃত্যুকে সৃষ্টি করে ৭০হাজার জিঞ্জীর দ্বারা আবদ্ধ করে ৭০হাজার পর্দার আড়ালে রেখে দিয়েছিলেন।সেই জিঞ্জীর এত বড় ছিল যে একটা তেজী ঘোড়া সহস্র বছর পাড়ি দিলেওতার একটি প্রান্ত অতিক্রম করতে পারবেনা ।ফেরেশতাগন কেউই জিঞ্জীরের শব্দে ভয়েমৃত্যু কাছে যেতো না ।সুতরাং মৃত্যু যে কি জিনিস তারা সেটা জানতো না ।একদিন আল্লাহ তাআলা সকল ফেরেশতাদের ডেকে মৃত্যুকে পর্দার আড়াল থেকে উন্মোচন করলেন ।কিন্তু ফেরশতাগন মৃত্যুর ভয়ানক আকৃতি দেখে ভয়ে কাঁপতে কাঁপতে অঞ্জান হয়ে পড়ে থাকলেন ।তার পরমহান আল্লাহ হাজার বছরপর ফেরশতাদের ঞ্জান ফিরিয়ে দিলেন । ফেরেশতাগন জিঞ্জেস করলো, হে আল্লাহ এর থেকে বড় কিছু কি আপনি সৃষ্টি করেছেন  ? তখন মহান আল্লাহ তাআলা বললেনঃ আমি মৃত্যুকে সৃষ্টি করেছি এবং আমি এর চেয়েও বড়।"
সুতরাং, সৃষ্টির শ্বাশ্বত এই সত্যকে মেনে নিয়েই সত্য ও সুন্দর জীবন যাপন করাই হোক আমাদের সকল প্রত্যয়। সকল মৃত মানুষের প্রতি সশ্রদ্ধ সালাম। তাদের পর কালের জীবনটা সুন্দর ও আনন্দময় হোক।
আহসানুল হক/ ফেব্রুয়ারী ২৮, ২০১৪
OpenStreetMap data includes "tags", name=value pairs which provide a free-form folksonomy approach to classifying features. To get started mapping you don't need to know about these. With a easy to use "edit" interface, you can simply select from a range of feature types. For example if you select "post box", then a node will be created with the "amenity=post_box" tag set on it.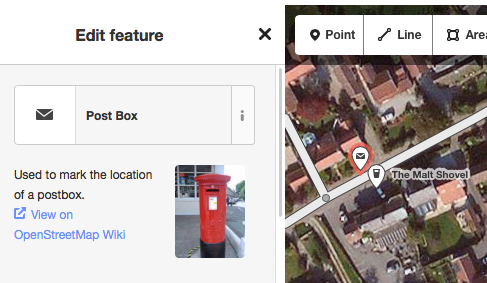 But as you learn to contribute data, and certainly if you try to use OpenStreetMap data, you'll most likely need to understand tags. To help you do this, there are a number of resources available.
You can search the OpenStreetMap wiki for tag documentation such as the Tag:amenity=post_box page. This documentation is created by the community, but rather than regarding this as the final word, understand that these wiki pages form part of a process to reach agreement on tags. You and everyone else in the community can help edit those pages to ensure the documentation is more exhaustive and more accurately reflecting the tags used by the mapping community.
But for a more direct view how tags are used by the mapping community, we have taginfo. This system counts up the ocurrances of tags in the OpenStreetMap database, and presents these statistics to give us a feel for which tags are most popular, and how many of these features we have mapped. For example, just now we see the amenity=post_box tag appears 153581 times in our database!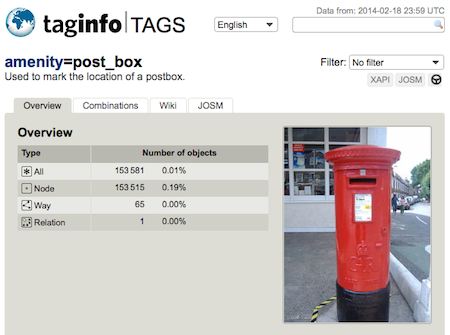 taginfo also mines the wiki for information, finds icons used in JOSM, provides links to Overpass Turbo, XAPI, and JOSM launcher, and generally brings information about tags together to connect different sources and users.
This system was developed by Jochen Topf several years ago, but building on similar ideas such as TagWatch and TagStat which came before it. These days taginfo is a crucial tool for understanding tags, and it has been rehosted on OpenStreetMap Foundation servers with various changes described by Jochen on his blog
A map projection is a way to represent the curved surface of the Earth on the flat surface of a map. A good globe can provide the most accurate representation of the Earth. However, a globe isn't practical for many of the functions for which we require maps. Map projections allow us to represent some or all of the Earth's surface, at a wide variety of scales, on a flat, easily transportable surface, such as a sheet of paper. Map projections also apply to digital map data, which can be presented on a computer screen.
There are hundreds of different map projections. The process of transferring information from the Earth to a map causes every projection to distort at least one aspect of the real world – either shape, area, distance, or direction.
Each map projection has advantages and disadvantages; the appropriate projection for a map depends on the scale of the map, and on the purposes for which it will be used. For example, a projection may have unacceptable distortions if used to map the entire country, but may be an excellent choice for a large-scale (detailed) map of a county. The properties of a map projection may also influence some of the design features of the map. Some projections are good for small areas, some are good for mapping areas with a large east-west extent, and some are better for mapping areas with a large north-south extent.
A Bonne projection is a pseudoconical equal-area map projection, sometimes called a dépôt de la guerre or a Sylvanus projection. Although named after Rigobert Bonne (1727–1795), the projection was in use prior to his birth, in 1511 by Sylvano, Honter in 1561, De l'Isle before 1700 and Coronelli in 1696. Both Sylvano and Honter's usages were approximate, however, and it is not clear they intended to be the same projection.
The projection is:
where
and φ is the latitude, λ is the longitude, λ0 is the longitude of the central meridian, and φ1 is the standard parallel of the projection.
Parallels of latitude are concentric circular arcs, and the scale is true along these arcs. On the central meridian and the standard latitude shapes are not distorted.
The inverse projection is given by:
where

 taking the sign of
.
Special cases of the Bonne projection include the sinusoidal projection, when φ1 is zero, and the Werner projection, when φ1 is π/2. The Bonne projection can be seen as an intermediate projection in the unwinding of a Werner projection into a Sinusoidal projection; an alternative intermediate would be a Bottomley projection.
Examples of Bonne projection
The Werner projection is a pseudoconic equal-area map projection sometimes called the Stab-Werner or Stabius-Werner projection. Like other heart-shaped projections, it is also categorized as cordiform. Stab-Werner refers to two originators: Johannes Werner (1466–1528), a parish priest in Nuremberg, refined and promoted this projection that had been developed earlier by Johannes Stabius (Stab) of Vienna around 1500.
The projection is a limiting form of the Bonne projection, having its standard parallel at one of the poles (90°N/S). Distances along each parallel and along the central meridian are correct, as are all distances from the north pole.
Examples of Bonne projection
Source: gisblog.com
Fact: Climate scientists lobbying for large-scale geoengineering
According to a news of The Gurdian, the geo-engineers are finally coming out of the "chemtrail" closet, as reports are now emerging about deliberate plans in the works to dump untold tons of sulfate chemicals into the atmosphere for the purported purpose of fighting so-called "global warming."
The U.K.'s Guardian and others are reporting that a multi-million dollar research fund, which just so happens to have been started and funded by Microsoft founder and vaccine enthusiast Bill Gates, is being used to fund the project. A large balloon hovering at 80,000 feet over Fort Sumner, New Mexico, will release the sulfates into the atmosphere within the next year.
The stated purpose for this massive release of toxic sulfate particles is that doing so will allegedly reflect sunlight back into the atmosphere, and thus cool the planet. But many environmental groups and advocates of common sense are decrying the idea as dangerous, and one that could result in permanent damage to ecosystems all across the globe.
"Impacts include the potential for further damage to the ozone layer, and disruption of rainfall, particularly in tropical and subtropical regions, potentially threatening the food supplies of billions of people," said Pat Mooney, Executive Director of the ETC Group, a Canadian environmental protection group.

"It will do nothing to decrease levels of greenhouse gases in the atmosphere or halt ocean acidification. And solar geo-engineering is likely to increase the risk of climate-related international conflict, given that the modeling to date shows it poses greater risks to the global south."
But the Gates-backed cohort is persistent in its efforts to geo-graffiti the world, as its scientists insist that governments are not doing enough to fight back against the supposed environment impacts of global warming. If governments refuse to implement high enough carbon taxes to eliminate greenhouse gases, in other words, then Gates and Co. believes it has no choice but to "save the planet" by polluting it with sulfate particles.
Controversies
Spraying the skies with sulfate particles will destroy the planet faster than 'global warming' ever could. Chemtrails Sulfate particles are toxic, though, and constitute the very same type of ambient particulate matter (PM) that the U.S. Environmental Protection Agency (EPA) considers to be a noxious air pollutant. Deliberately spraying the skies with tiny particles composed of any material, for that matter, is hazardous both to respiratory health in humans and animals, as well as to water sources, soils, and other delicate environmental resources.
"Sulfate particles from acid rain can cause harm to the health of marine life in the rivers and lakes it contaminates, and can result in mortality," says an online water pollution guide (http://www.water-pollution.org.uk/health.html). A University of Washington (UW) report also explains that sulfate particles "contribute to acid rain, cause lung irritation, and have been a main culprit in causing the haze that obscures a clear view of the Grand Canyon."
Blocking the sun with reflective particles will also deprive humans of natural sunlight exposure, which is a primary source for naturally generating health-promoting vitamin D in the body. So once again, Bill Gates is at the helms of a project that seeks to control the climate in artificial ways using toxic chemicals, an endeavor that is sure to create all sorts of potentially irreversible problems for humanity and the planet.