A couple of weeks ago we mentioned a brand new feature on the OpenStreetMap.org homepage. On the right hand side we have a new "?" button which lets you query the map.
On openstreetmap.org, zoom in somewhere
Click the "?" button to enter query mode
Click the map on something you are interested in
Hover over the results, and choose one to find out more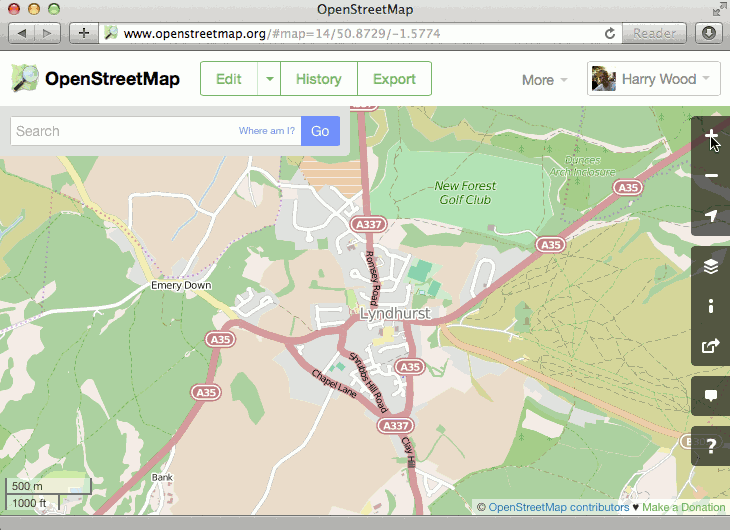 When you query a spot on the map, this new tool will retrieve nearby points of interest from the OpenStreetMap database, and let you quickly drill down to all of the detailed tagging information we have in that database.
More than a map
This new tool helps highlight a crucial point about OpenStreetMap. It's so much more than just a visual map. OpenStreetMap is a rich database of geo-located information, only some of which is visible on the "standard" view of the map. Other information is visible via different layers (such as cycle routes presented on the cycling layer) and all of the data can be viewed by enabling the "map data" layer (also on the layer picker panel) but this query tool offers a new window into the OpenStreetMap data, and a new way to discover all the details our contributors are adding to the database.
For developers this data opens up a world of possibilities. All the data is available to downloadfor free.
How to price your services to attract business and make a profit ?
Independent contractors (ICs) can charge for their services in a variety of ways, such as a fixed amount for an entire project, an hourly fee, or a sales commission.
No matter how you bill clients, however, you first need to figure out how much to charge — even if you charge a fixed fee for the whole project. You can't determine how much your fixed fee should be unless you know roughly how many hours the job will take and what you need to earn per hour to make it worth your while.
If you're experienced in your field, you probably already know what to charge because you are familiar with market conditions. However, if you're just starting out, you may have no idea what you can or should charge. If you're in this boat, try using a two-step approach to determine your hourly rate:
Calculate what your rate should be, based on your expenses.
Investigate the marketplace to see if you should adjust your rate up or down.
Calculate Your Hourly Rate
Business schools teach a standard formula for determining an hourly rate: Add up your labor and overhead costs, add the profit you want to earn, then divide the total by your hours worked. This is the minimum you must charge to pay your expenses, pay yourself a salary, and earn a profit. Depending on market conditions, you may be able to charge more for your services — or you might have to get by on less.
Determine your annual salary. To determine how much your labor is worth, pick a figure for your annual salary. This can be what you earned for doing similar work when you were an employee, what other employees earn for similar work, or how much you'd like to earn (as long as your goal is reasonable).
Compute annual overheard. Next, compute your annual overhead. Overhead includes all of the costs you incur to do business — for example:
telephone expenses
office equipment and furniture
rent and utilities
stationery and supplies
postage and delivery costs
clerical help
business insurance
business-related meals and entertainment
travel expenses
professional association memberships
legal and accounting fees, and
advertising and marketing costs — for example, the cost of a yellow pages ad, website, or brochure.
Overhead also includes the cost of your fringe benefits, such as medical insurance, disability insurance, and retirement benefits, as well as your income taxes and self-employment taxes.
If you're just starting out, you'll have to estimate these expenses or ask other ICs in the same field what they pay in overhead, then use that amount in your calculations.
Choose a profit margin. You're also entitled to earn a profit over and above your salary and overhead expenses. Your salary does not count as profit; it's one of the costs of doing business. Profit is the reward you get for taking the risks of being in business for yourself. It also provides money to expand and develop your business. Profit is usually expressed as a percentage of total costs. There is no standard profit percentage, but a 10% to 20% profit is common.
Determine billable hours. Finally, you need to determine how many hours you'll work and get paid for during the year. Assume you'll work a 40-hour week for purposes of this calculation, although you may end up working more than this. If you want to take a two-week vacation each year, you'll have a maximum of 2,000 billable hours per year (50 weeks x 40 hours). If you want to take a longer vacation, you'll have fewer billable hours.
However, you'll probably spend at least 25% to 35% of your time on tasks that you can't bill to clients, such as bookkeeping and billing, drumming up business, and upgrading your skills. This means you'll probably have only 1,300 to 1,500 hours for which you can get paid each year, if you still want that two-week vacation.
EXAMPLE
Sam, a self-employed website designer, earned $50,000 per year as an employee and feels that he should receive at least the same annual salary as an IC. He estimates that his annual overhead will be about $20,000 per year. He wants to earn a 10% profit and estimates that he'll work about 1,500 billable hours each year. Sam determines his hourly rate as follows:
He adds his salary and overhead together: $50,000 + $20,000 = $70,000.
He then multiplies this total by his 10% profit margin and adds this amount to his salary and overhead: 10% of $70,000 = $7,000; $70,000 + $7,000 = $77,000.
Finally, he divides the total by his annual billable hours to arrive at his hourly rate: $77,000 ÷ 1,500 = $51.33.
Sam rounds his hourly rate off to $50. However, depending on market conditions, Sam might be able to charge more — or he might have to accept less.
Investigate the Marketplace
It's not enough to calculate how much you'd like to earn per hour: You also need to determine whether this figure is realistic. This means that you'll have to go out into the world and find out what other ICs are charging for similar services — and what your potential clients are willing to pay. There are many ways to gather this information.
Contact a professional organization or trade association for your field. It may be able to give you good information on what other ICs are charging in your area.
Ask other ICs what they charge. You can communicate pricing concerns with other ICs over the Internet.
Talk to potential clients and customers — for example, attend trade shows and business conventions.
You may discover that your ideal hourly rate is higher than what other ICs are charging in your area. However, if you're highly skilled and performing work of unusually high quality, don't be afraid to ask for more than other ICs with lesser skills charge. Lowballing your fees won't necessarily get you business. Many potential clients believe that they get what they pay for — and are willing to pay more for quality.
One approach is to start out charging a fee that is at the lower end of the spectrum for ICs performing similar services, then gradually increase it until you start meeting price resistance. Over time, you should be able to find a payment method and fee structure that enable you to get enough work while adequately compensating you for your services.
Make a Written Fee Agreement
Once you decide what you will charge, make sure you enter into a written fee agreement with every client. (If you choose to charge a fixed fee for a project, multiply your estimated hours for a job by your chosen hourly rate.)
The World Bank recently released its extensive guide to planning an Open Cities mapping project, which was proudly co-authored by HOT. 
The Open Cities Project began two years ago under the World Bank's Global Facility for Disaster Reduction and Recovery (GFDRR), with initial locations in Nepal, Bangladesh, and Sri Lanka. The aim is to promote open data ecosystems that support disaster risk management in high risk locations.
Of note in the Open Cities guide (available here) is a detailed approach to planning, managing, and reviewing  mapping projects in which implementers intend to map a finite area using a specific data model. Using OpenStreetMap as the platform for data collection, the guide explains the methodology of mapping primarily in organizational terms, with less focus on the detailed technical aspects of tools like JOSM and Field Papers. Extensive experience and lessons learned from the first Open Cities projects, as well as HOT activities, will help inform future efforts.
It's great to see how many variations of OSM mapping projects have emerged in the past years under different auspices and with varying objectives and methodologies. I think Open Cities puts the right focus on one of the core philosophies of all this work, which is to foster buy-in and collaboration among a wide range of actors, as the power and value of open data gains more and more traction.
This book offers insights and practical knowledge for anyone interested in organizing a large mapping project. I'm pleased that HOT has been able to collaborate on this, especially in being able to combine our experience with the important work of GFDRR. And I look forward to the future development of more and more open mapping activities! See the Abstract below:
ABSTRACT
This guide offers a comprehensive understanding of the design and implementation of an Open Cities mapping project for both practitioners in the field and those interested in a higher-level understanding of the process. The guide's content is based on experience in implementing the initial Open Cities projects in Bangladesh, Nepal, and Sri Lanka as well as on previous mapping project experience. Where relevant, it provides relevant examples from those projects in the text and full case studies at the end of guide. The Open Cities Project launched its efforts in three cities: Batticaloa, Sri Lanka; Dhaka, Bangladesh; and Kathmandu, Nepal. These cities were chosen for: 1) their high levels of disaster risk; 2) the presence of World Bank-lending activities related to urban planning and disaster management that would benefit from access to better data; and 3) the willingness of government counterparts to participate in and help guide the interventions. Chapter 2, "Project Design and Preparation," covers how a project design process begins: by identifying partners, clarifying a project's objectives and scope, assembling a team of managers and mappers, and assessing the necessary resources for mapping. Chapter 3, "Getting Started," then describes the steps after the initial planning stage: how to locate an appropriate workspace, assess equipment costs, and prepare staff training. Chapter 4, "Implementation and Supervision," takes a practical look at data collection techniques from both the organizational and technical perspectives. It also addresses common challenges and mechanisms for quality control and reporting. Finally, chapter 5 examines the lessons learned from previous Open Cities projects and considers future improvements to the overall project design.
Source: http://hot.openstreetmap.org/
Today for the first time we feature an Asian country in our OpenStreetMap country profile series. We spoke with

 

Ahasanul Hoque

 

about the current state of OSM in Bangladesh.
1. Who are you and what do you do? What got you into OpenStreetMap?
I am Ahasanul Hoque, working as GIS and Data Management Specialist in Water Sanitation Program of World Bank Bangladesh. GIS is my passion and working with it nationally and internationally for long 10 years. During my Master's Degree in Asian Institute of Technology, I got involved in OpenSource GIS. After coming back to Bangladesh GFDRR's collaborative open city project gave me the chance to work actively with OpenStreetMap. Two year back, all of Bangladesh was almost BLANK in OSM. As a GIS geek and supporter of free and opensource projects I realized the huge potential of OSM in developing Bangladesh, a country with regular disaster threat, top listed for climate impacts. I have been spreading the word every chance I get and I finally see the community waking up.
2. What would you say is the current state of OSM and the OSM community in Bangladesh?
Unlike European countries, I would say that, right now in Bangladesh OSM is in child stage, the community is being built up. OSM is established in European countries and has become a social phenomenon there, people have the esteem to map every inch of their country together to create a free and complete map. But it's still not that fancy here in Bangladesh. Different university students are aware and started mapping in different corners discretely.
With the GFDRR and WSP support each and every corner of few wards of Dhaka city have been mapped. Other organisations also saw the potential of this users' map and throwing more projects regarding OSM mapping. I believe these will create a big wave among different communities what will lead to more data in OSM from Bangladesh.
3. What are the unique challenges and pleasures of OpenStreetMap in Bangladesh? What aspects of the projects in Bangladesh should the rest of the world be aware of?
The challenges for Bangladesh is the lack of awareness, knowledge of benefit, potentiality, interoperability of the OSM; Mostly people do not realize the significance of free geographic data and are just too lazy to be bothered to help the community. The popularity of Google maps is also a challenge.
The pleasure is that, OSM becoming more popular among Government organizations than all others, they are showing more and more interest. Recently the Water Supply and Sanitation Authority department showed their interest and got the training 2 weeks back to map the water and drainage network in Slum areas of Dhaka City Corporation.
The rest of the world should be aware of the amazing talent of students in Bangladesh. The more and more students should be motivated and involved to OSM. Once they are commonly in any idea or process then they can bring rapid change and make the impossible to possible.
4. Looking at the OSM Bangladesh page on Facebook, it seems you are doing lots of training sessions. Can you describe this? Who attends, what do they learn, and how effective are the events? What percentage of trainees become active contributors?
Yes, I am trying to spread the knowledge of crowdsource OSM and to increase the community in Bangladesh where getting public/utilities data is a difficult thing.
Different classes of people attending the training, mostly students followed by NGO workers, Govt people, GIS professionals and researchers to learn the concept of mapping, Open Data, OSM. The events are effective in immediate weeks mostly. Though right now the percentage of active users is not satisfactory but there is a big hope in very coming days when the community will be more involved in OSM mapping.
5. What could the global community do to better support OSM in Bangladesh?
From my point of view, the global community already playing great role to spread the OSM, tutorial documents, youtube videos etc and adding more and more data every day. The data adding pace will be faster if the community can involve the OSM more with academia.
6. OSM recently celebrated it's 10th birthday, where do you think the project will be in 10 years time, both globally and in Bangladesh specifically?
Wikipedia of maps, the OSM is stepping from its young to its mature stage, I can say. Next to GPS, the most significant development in the Open Geo Data movement is OpenStreetMap (OSM), a community-driven mapping project whose goal is to create the most detailed, correct, and current open map of the world. Maybe it is one of the most popular and single common thing in the world what spread with highest velocity by the enthusiastic users from different corner of the world. OSM now has more than 1.5 million registered users, including major mapping and navigation companies. There are several OSM apps in the app store, developers are continually working on or with it, humanitarian use of OSM make me think that by next 10 years OSM will be much more useable, reliable and valuable in terms of navigation, designing, planning, project management, monitoring, pre-during-post disaster management. As I told before, OSM is not only a map, it's a global social wave. So Bangladesh won't be out of this wave like other technology and knowledge in this era of ICT. There are several OSM projects going to be launched very soon by different iNGOs in Bangladesh and by next 10 years the whole country will be covered with almost all sorts of tags and keys that I wish and believe.
Many thanks Ahasan, to you and all the members of the OSM Bangladesh community. Keep up the great work! Keep pushing. Anyone interested in tracking Ahasan's efforts should follow his blog.
You can see all the Open Geo interviews here.
Source : OpenCage Data Blog
Description
This series of maps shows the location of edited content in the world's largest collaborative mapping project: OpenStreetMap.
Data
The maps use OpenStreetMap data downloaded from GeoFabrik.de on December 12th, 2013. Each sub-region extract has been parsed and for each node (i.e., elements used in OpenStreetMap to represent any point feature), the coordinates, version, and last update values have been selected.
The first map was created by counting the number of nodes for each cell in a grid of 0.1 degrees of latitude per 0.1 degrees of longitude. The second map instead focuses on edits by summing the version numbers of all nodes in a cell (as this number is increased by one each time a node is modified), resulting in a count of all edits for the whole history of OpenStreetMap. The third map focuses on the age of content, and so records the latest update made to a node for each cell of the grid.
Findings
The first map offers a revealing picture of the presence of thick layers of content that annotate a few parts of the world, and a relative absence of content over much of the rest of the planet. The glowing centres of content in parts of North America, Europe, Oceania, and Japan, in many ways, parallels the visual intensity of lights in NASA's Earth City Lights series.
The United States account for the largest total amount of content, collecting 21% of all nodes present in OpenStreetmap (OSM), followed by France, Canada, Germany and Russia, all counting more than 100 million nodes. These five countries alone collect 58% of the content, and high-income OEDC countries sum up to about 80% of OSM.
The Netherlands enjoy the highest density of content, with an average of over 1000 nodes per square kilometre, followed by Belgium with over 700 nodes per square kilometre, and Germany, the Czech Republic, Switzerland, and France, with about 400 nodes per square kilometre.
In contrast to the brightness of the Europe, the southern hemisphere is barely visible, as the amount of content available on OSM about that part of the world is far lower than in the northern hemisphere, with Africa and Latin America represented by less than 5% of the content. California alone accounts for almost as much content as the entirety of Africa.
Turkey and the western part of the Middle East are visible, but already fading into a less intense color. The emerging powers of Brazil, India, and China appear to be suffering from wide-spread content "blackout", where only the largest urban centres are visible. Brazil accounts for fewer nodes than Switzerland, and China for even fewer. The same applies to most of the remaining parts of Africa, Asia, and Latin America. One of the oldest urbanized areas of the world, an amazing strip of lights that follows the course of the Nile, is barely visible. In fact, Egypt accounts for as many nodes as Iceland, despite being 10 times as big and accounting for 250 times the population.
Interestingly, content in parts of North Korea lights up the map: an unusual situation for a country not renowned for even appearing in most indices of online participation. This is most likely thanks to work done in 2011 by the OSM developers community. We see a similar situation in Newfoundland and Labrador: with large swaths of sparsely populated land characterised by relatively dense amounts of content. The Canadian case is likely a result of a detailed physical geography dataset that was bulk-uploaded to OpenStreetMap.
Several studies have been conducted on the quality of OSM's coverage in these areas (e.g., see the paper by Haklay et al, 2010) where high-quality data from government agencies are also available for comparison. However, it has to be noted that these are the same countries where Open Data policies have spread, allowing lots of data to be uploaded to OSM. In fact, the visible distribution of content is not too different from the map of the GeoNames gazetteer project we published some months ago.
The second map below illustrates the number of edits made to OpenStreetMap. Unsurprisingly, the most content-dense areas are also the most heavily edited, because each new node included means one more edit made within the related area. However, statistical analysis suggests that the United States and Germany account for far more edits than would be expected given the related content in OSM, whereas content from Italy and Netherlands is far less edited than expected. In most parts of the rest of the world the number of edits is simply related to the number of objects in a given area.
The third and last map presents an illustration of the most and least recently updated areas in OSM, similarly to a map included in the recent Mapbox's 2013 OpenStreetMap Data Report.
It is not surprising that most areas in Europe have seen at least one edit in the week before the data were collected. Similarly, it is evident how the most remote regions of the world have not been updated for years, from Siberia to the Australian Outback, from central Africa to the Amazon basin and northern Canada.
While most of the map shows a random mix of data, due to the volunteer-based nature of the projects, there are some evident areas of plain colour, which might indicate bulk uploading of new data and datasets from government agencies or companies. An examples can be found in Iraq, where most of the country has been updated between September and November 2013; in Australia, where large areas in South Australia have been recently updated, and the updates clearly follow the state borders with New South Wales and Victoria states; and in Estonia, which has also received recent edits for most of its territory.
OSM will turn 10 years old in a few months, and combining the findings obtained from these three maps, it is evident how it is a very good geographical representation of the most developed countries, and their urban environment. OSM also provide large amount of information about non-rural areas, although these are not as up-to-date and detailed as urban areas.
The quantity and the quality of the data make OSM one of the most powerful and exciting open-source projects that the Internet has facilitated in recent years, along with Linux and Wikipedia. Nonetheless, there is still a lot of work to do, and the development of the project in its second decade will probably depend on it attracting new volunteers among the new Internet users in Africa, Asia, Latin America, and the Middle East. Finally, OSM will be influenced by the relationships with those many companies which are currently based their mapping services on it, as well as the future spread of open data policies.
Apr 18, 2012
City Lights of the United States 2012
Earth is constantly changing. Some changes are a natural part of the climate system, such as the seasonal expansion and contraction of the Arctic sea ice pack. The responsibility for other changes, such as the Antarctic ozone hole, falls squarely on humanity's shoulders. Our World of Change series documents how our planet's land, oceans, atmosphere, and Sun are changing over time.
Its very normal to arise question your inside, "why the forest is red and sky is blue in satellite images?" Chances are, you have a camera near you as you read this—in the smart phone in your pocket or on the tablet or computer you're using to view this blog. Some of you might have a 35 mm film or digital camera nearby. And at some point this week, you probably looked through photos posted by friends or even strangers on the Internet. In our photo-saturated world, it's natural to think of the images on the Earth Observatory as snapshots from space. But most aren't. 
Though they may look similar, photographs and satellite images are fundamentally different. A photograph is made when light is focused and captured on a light-sensitive surface (such as film or a CCD). A satellite image is created by combining measurements of the intensity of certain wavelengths of light, both visible and invisible to human eyes.
From the Amazon rainforest to North American forests, plant-covered land is red in this view of Earth from the Messenger spacecraft. The image incorporates both visible and infrared light. (NASA imagebased on data from the Mercury Dual Imaging System (MDIS) onMessenger.)
Why does the difference matter? When we see a photo where the colors are brightened or altered, we think of it as artful (at best) or manipulated (at worst). We also have that bias when we look at satellite images that don't represent the Earth's surface as we see it. "That forest is red," we think, "so the image can't possibly be real."
In reality, a red forest is just as real as a dark green one. Satellites collect information beyond what human eyes can see, so images made from other wavelengths of light look unnatural to us. We call these images "false-color," and to understand what they mean, it's necessary to understand exactly what a satellite image is.
Satellite instruments gather an array of information about the Earth. Some of it is visual; some of it is chemical (such as gases in the atmosphere); some of it is physical (sensing topography). In fact, remote sensing scientists and engineers are endlessly creative about what they can measure from space, developing satellites with a wide variety of toolsto tease information out of our planet. Some methods are active, bouncing light or radio waves off the Earth and measuring the energy returned; lidar and radar are good examples. The majority of instruments are passive; that is, they record light reflected or emitted by Earth's surface.
These observations can be turned into data-based maps that measure everything from plant growth or cloudiness. But data can also become photo-like natural-color images or false color images. This article describes the process used to transform satellite measurements into images.
Seeing the Light
So what does a satellite imager measure to produce an image? It measures light that we see and light that we don't see. Light is a form of energy—also known as electromagnetic radiation—that travels in waves. All light travels at the same speed, but the waves are not all the same. The distance between the top of each wave—the wavelength—is smaller for high-energy waves and longer for low-energy waves.
Wavelength is the distance from one peak to another, representing a single cycle of a wave. (NASA Earth Observatory image by Robert Simmon.)
Visible light comes in wavelengths of 400 to 700 nanometers, with violet having the shortest wavelengths and red having the longest. Infrared light and radio waves have longer wavelengths and lower energy than visible light, while ultraviolet light, X-rays, and gamma rays have shorter wavelengths and higher energy.
Most of the electromagnetic radiation that matters for Earth-observing satellites comes from the Sun. When sunlight reaches Earth, the energy is absorbed, transmitted, or reflected. (Absorbed energy is later re-emittedas lower-energy radiation.) Every surface or object absorbs, emits, and reflects light uniquely depending on its chemical makeup. Chlorophyll in plants, for example, absorbs red and blue light, but reflects green and infrared; this is why leaves appear green. This unique absorption and reflection pattern is called a spectral signature.
Varied land surfaces have distinct spectral signatures. Fresh basalt lava and asphalt reflect different amounts of infrared light, even though they appear similar in visible light. (Photograph ©2012 Robert Simmon. Figure by Robert Simmon, using data from the USGS Digital Spectral Library.)
Like Earth's surfaces, gases in the atmosphere also have unique spectral signatures, absorbing some wavelengths of electromagnetic radiation and emitting others. Gases also let a few wavelengths pass through unimpeded. Scientists call these "atmospheric windows" for specific wavelengths, and satellite sensors are often tuned to measure light through these windows.
Atmospheric windows are regions of the spectrum where most light penetrates through the atmosphere, allowing satellites to view the Earth's surface. (Figure adapted fromCasey et al, 2012.)
Some satellite instruments also directly measure the energy emitted by objects. Everything gives off energy, usually in the form of heat (thermal infrared radiation). The hotter an object is, the shorter the peak wavelength it emits. At about 400°C (750° F)—the temperature of an electric stove burner set to high—the emitted light will begin to be visible. The colder an object is, the longer the peak wavelength it emits.
Turning Wavelength Data Into an Image
Satellite instruments carry many sensors that are each tuned to a narrow range, or "band," of wavelengths (just red or green light, for instance). Viewing the output from just one band is a bit like looking at the world in shades of gray. The brightest spots are areas that reflect or emit a lot of that wavelength of light, and darker areas reflect or emit little (if any).
Color satellite images are composed of multiple, individual channels of data, each corresponding to a specific range of wavelengths. Natural-color (also called true-color) images use red, green, and blue. False-color images use at least one wavelength outside the visible range, or some other type of data. (NASA image by Robert Simmon with 
Landsat 8
 data from the USGS 
Earth Explorer.
)
To make a satellite image, we choose three bands and represent each in tones of red, green, or blue. Because most visible colors can be created by combining red, green, and blue light, we then combine the red, green, and blue-scale images to get a full-color representation of the world.
A natural or "true-color" image combines actual measurements of red, green, and blue light. The result looks like the world as humans see it. (For tips on understanding true-color images, read How to Interpret a Satellite Image on the Earth Observatory.")
A false-color image uses at least one non-visible wavelength, though that band is still represented in red, green, or blue. As a result, the colors in the final image may not be what you expect them to be. (For instance, grass isn't always green.) Such false-color band combinations reveal unique aspects of the land or sky that might not be visible otherwise.
This series of Landsat images of southeastern Florida and the Northern Everglades illustrates why you might want to see the world in false color. (A related animation shows how the images were made.) The visible light image shows dark green forest, light green agriculture, brown wetlands, silver urban areas (the city of Miami), and turquoise offshore reefs and shallows. These colors are similar to what you would see from an airplane.
This natural-color image shows southeast Florida in red, green, and blue light. (NASA 
image
 by Matt Radcliff with 
Landsat 5
 data from the USGS 
Earth Explorer.
)
The second image shows the same scene in green, near infrared, and shortwave infrared light. In this false-color band combination, plant-covered land is bright green, water is black, and bare earth ranges from tan to pink. Urban areas are purple. Newly burned farmland is dark red, while older burns are lighter red. Much of the farmland in this area is used to grow sugar cane. Farmers burn the crop before harvest to remove leaves from the canes. Because burned land looks different in this kind of false-color image, it is possible to see how extensively farmers rely on fire in this region.
This false-color image of Florida combines shortwave infrared, near infrared, and green light. (NASA image by Matt Radcliff with Landsat 5 data from the USGS Earth Explorer.)
This false-color view also reveals how water flows through the Northern Everglades. Green islands punctuate the wetlands, which are black and blue. These are tree islands that are hard to distinguish in natural color. Their orientation aligns with the flow of the water, highlighting direction that is not obvious in the natural color image. It is also easier to see the extent of the wetlands against surrounding land, since water is dark in this view and plant-covered land is bright green.
Southeast Florida is shown in near infrared, red, and green light. (NASA image by Matt Radcliff with Landsat 5 data from the USGS Earth Explorer.)
The third image shows the scene in green, red, and near infrared light. Plants are dark red because they reflect infrared light strongly, and the infrared band is assigned to be red. Plants that are growing quickly reflect more infrared, so they are brighter red. That means that this type of false-color image can help us see how well plants are growing and how densely vegetated an area is. Water is black and blue, and urban areas—including Miami, Fort Lauderdale, and West Palm Beach—are silver.
Observing in Visible Light
Data visualizers and remote sensing scientists make true- or false-color images in order to show the features they are most interested in, and they select the wavelength bands most likely to highlight those features.
Combining red, green, and blue bands results in a true-color satellite image, such as this view of Lake Issyk Kul, Kyrgyzstan. (MODIS image from NASA Worldview.)
Blue light (450 to 490 nanometers) is among the few wavelengths that water reflects (the rest are absorbed). Hence, blue bands are useful for seeing water surface features and for spotting the sea- or lake floor in shallow waters. You can see that water reflects some blue light in the above image of Lake Issyk Kul, Kyrgyzstan. Water is lighter in the blue band than it is in either the red or green bands, though the lake is too deep for shallow features to be visible. Manmade creations like cities and roads also show up well in blue light. It is also the wavelength most scattered by particles and gas molecules in the atmosphere, which is why the sky is blue.
Green light (490 to 580 nanometers) is useful for monitoringphytoplankton in the ocean and plants on land. The chlorophyll in these organisms absorbs red and blue light, but reflects green light. Sediment in water also reflects green light, so a muddy or sandy body of water will look brighter because it is reflecting both blue and green light.
Red light (620 to 780 nanometers) can help distinguish minerals and soils that contain a high concentration of iron or iron oxides, making it valuable for studying geology. In the above image, for example, the exposed ground around Lake Issyk Kul varies in tone from pale tan to orange based on the mineral content of the soil. Since chlorophyll absorbs red light, this band is commonly used to monitor the growth and health of trees, grasses, shrubs, and crops. Red light can also help distinguish between different types of plants on a broad scale.
Observing in Infrared
Near infrared (NIR) light includes wavelengths between 700 and 1,100 nanometers. Water absorbs NIR, so these wavelengths are useful for discerning land-water boundaries that are not obvious in visible light. The below image shows the near infrared view of the Piqiang Fault, China. Stream beds and the wetland in the upper left corner are darker than the surrounding arid landscape because of their water content. (See a natural color view of the scene here.) Plants, on the other hand, reflect near infrared light strongly, and healthy plants reflect more than stressed plants. Finally, near infrared light can penetrate haze, so including this band can help discern the details in a smoky or hazy scene.
Variations in mineral content, vegetation, and water cause patterns of light and dark in this near infrared view of the 
Piqiang Fault
 in northwestern China. (NASA image by Robert Simmon with 
ASTER
 data.)
Shortwave infrared (SWIR) light includes wavelengths between 1,100 and 3,000 nanometers. Water absorbs shortwave infrared light in three regions: 1,400, 1,900, and 2,400 nanometers. The more water there is, even in soil, the darker the image will appear at these wavelengths. This means SWIR measurements can help scientists estimate how much water is present in plants and soil. Shortwave-infrared bands are also useful for distinguishing between cloud types (water clouds versus ice clouds) and between clouds, snow, and ice, all of which appear white in visible light. Newly burned land reflects strongly in SWIR bands, making them valuable for mapping fire damage. Active fires, lava flows, and other extremely hot features "glow" in the shortwave-infrared part of the spectrum. In the image below, different types of sandstone and limestone make up the mountains around China's Piqiang Fault. Each rock type reflects shortwave infrared light differently, making it possible to map out geology by comparing reflected SWIR light. Enhancing the subtle differences between the 3 bands of reflected shortwave infrared light used to make this image gives each mineral a distinctive, bright color.
Comparing the differences between 3 shortwave infrared bands highlights the mineral geology surrounding China's Piqiang Fault. (NASA image by Robert Simmon with 
ASTER
data.)
Midwave Infrared (MIR) ranges from 3,000 to 5,000 nanometers and is most often used to study emitted thermal radiation in the dark of night. Midwave infrared energy is also useful in measuring sea surface temperature, clouds, and fires. The images below contrast a visible-lightnighttime view of the Niger River Delta with the same view in midwave infrared; both images are from the Visible Infrared Imaging Radiometer Suite (VIIRS) on the Suomi-NPP satellite. The day-night band shows visible light—the lights of Port Harcourt and Benin City, bright gas flares, and moonlight reflected off clouds. The midwave infrared image shows emitted thermal radiation. The warmer ocean and river are pale, while the cold land and clouds are dark, and the hot gas flares are bright.
Visible light at night (top) shows cities, gas flares, and moonlight reflected off clouds. Flares also shine in midwave infrared (lower); this view also contrasts warm waters with colder land and clouds. (NASA/NOAA image by Jesse Allen and Robert Simmon, using VIIRS data fromNGDC.)
Infrared (IR) light—specifically between 6,000 to 7,000 nanometers—iscritical for observing water vapor in the atmosphere. Though water vapor makes up just 1 to 4 percent of the atmosphere, it is an important greenhouse gas. It is also the basis for clouds and rainfall. Water vapor absorbs and re-emits energy in this range, so infrared satellite observations can be used to track water vapor. Such observations are integral to weather observations and forecasts.
Mid-infrared (7µm) and thermal-infrared (12 µm) images showing water vapor (left), and temperature (right). The images are inverted to better show clouds: cold areas are light and warm areas are dark. (NASA/NOAA images by Robert Simmon, using data from theGOES Project Science Team.)
Thermal or longwave infrared (TIR or LWIR) light includes wavelengths between 8,000 and 15,000 nanometers. Most of the energy in this part of the spectrum is emitted (not reflected) by the Earth as heat, so it can be observed both day and night. Thermal infrared radiation can be used to gauge water and land surface temperatures; this makes it particularly useful for geothermal mapping and detection of heat sources like active fires, gas flares, and power plants. Scientists also use TIR to monitor crops. Actively growing plants cool the air above them by releasing water through evapotranspiration, so TIR light helps scientists assess how much water the plants are using.
How to Interpret Common False Color Images
Though there are many possible combinations of wavelength bands, the Earth Observatory typically selects one of four combinations based on the event or feature we want to illustrate. For instance, floods are best viewed in shortwave infrared, near infrared, and green light because muddy water blends with brown land in a natural color image. Shortwave infrared light highlights the difference between clouds, ice, and snow, all of which are white in visible light.
Our four most common false-color band combinations are:
Near infrared (red), green (blue), red (green). This is a traditional band combination useful in seeing changes in plant health.
Shortwave infrared (red), near infrared (green), and green (blue), often used to show floods or newly burned land.
Blue (red), two different shortwave infrared bands (green and blue). We use this to differentiate between snow, ice, and clouds.
Thermal infrared, usually shown in tones of gray to illustrate temperature.
Near infrared, red, green
One of our most frequently published combinations uses near infrared light as red, red light as green, and green light as blue. In this case, plants reflect near infrared and green light, while absorbing red. Since they reflect more near infrared than green, plant-covered land appears deep red. The signal from plants is so strong that red dominates the false-color view of Algeria below. Denser plant growth is darker red. This band combination is valuable for gauging plant health.
Cities and exposed ground are gray or tan, and clear water is black. In the image below, the water is muddy, and the sediment reflects light. This makes the water look blue. Images from the Advanced Spaceborne Thermal Emission and Reflection Radiometer (ASTER) and from the early Landsats are often shown in this band combination because that's what the instruments measured.
Near infrared, red, and green light were used to create this false-color image of Algeria. Red, plant-covered land dominates the scene. (NASA image by Robert Simmon with 
Landsat 8
data from the USGS 
Earth Explorer.
)
Shortwave infrared, near infrared, and green
The most common false-color band combination on the Earth Observatory uses the shortwave infrared (shown as red), the near infrared (green), and the green visible band (shown as blue).
Water absorbs all three wavelengths, so it is black in this band combination. In the below false-color image of Algeria, however, water is blue because it is full of sediment. Sediment reflects visible light, which is assigned to look blue in this band combination. This means that both sediment-laden water and saturated soil will appear blue. Because water and wet soil stand out in this band combination, it is valuable formonitoring floods. Saturated soil will also appear blue. Ice clouds, snow, and ice are bright blue, since ice reflects visible light and absorbs infrared. This helps distinguish water from snow and ice; it also distinguishes clouds made up mostly of liquid water or ice crystals.
The shortwave infrared, near infrared, and green light version of the Algeria scene highlights the presence of water and wet soil in an otherwise dry landscape. (NASA image by Robert Simmon with 
Landsat 8
data from the USGS 
Earth Explorer.
)
Newly burned land reflects shortwave infrared light and appears red in this combination. Hot areas like lava flows or fires are also bright red or orange. Exposed, bare earth generally reflects shortwave infrared light and tends to have a red or pink tone. Urban areas are usually silver or purple, depending on the building material and how dense the area is.
Since plants reflect near infrared light very strongly, vegetated areas are bright green. The signal is so strong that green often dominates the scene. Even the sparse vegetation in Algeria's desert landscape stands out as bright green spots in the above image.
Blue, shortwave infrared
Occasionally, the Earth Observatory will publish a band combination that assigns blue light to be red and two different shortwave infrared bands to green and blue. This band combination is especially valuable in distinguishing snow, ice, and clouds. Ice reflects more blue light than snow or ice clouds. Ice on the ground will be bright red in this false color, while snow is orange, and clouds range from white to dark peach.
A combo of blue and shortwave infrared light contrasts clouds, snow, and ice in a large winter storm from January 2014. (NASAimage by Jesse Allen and Robert Simmon; data fromLANCE/EOSDIS Rapid Response.)
Thermal infrared
The Earth Observatory also uses thermal infrared measurements to show land temperatures, fire areas, or volcanic flows, but most of the time, these are published as grayscale images. Occasionally, the thermal features of interest will be layered on top of a true-color or grayscale image, particularly in the case of a fire or volcano.
Infrared light reveals details of the evolving lava flows on Russia's Tolbachik Volcano. (NASA image by Jesse Allen and Robert Simmon, using EO-1 ALI data from the NASA EO-1 team.)
You can explore the way different band combinations highlight different features by using a browse tool called Worldview, which displays data from many different imagers, including Aqua and Terra MODIS. Click on "add layers" and then select one of the alternate band combinations (1-2-1, 3-6-7, or 7-2-1). The site also provides descriptions of common MODIS band combinations.
You can also explore false color imagery with Landsat. See a few examples with a description in the Landsat 7 Compositor, or watch thisanimation of the Florida Everglades in three different band combinations. You can also make your own Landsat images and experiment with band combinations by using software like Adobe Photoshop or ImageJ.Download data for free from the U.S. Geological Survey, then follow the instructions for Photoshop or ImageJ.
Tenth Birthday of OpenStreetMap
August 9th, OpenStreetMap's 10th birthday is coming up. Shouldn't we plan something to celebrate OpenStreetMap 10th Anniversary Birthday party on Saturday, 9th August 2014 as in cities all around the world http://goo.gl/RgKDXB  ! To celebrate, we should arrange a birthday sprint this coming Saturday August 9th at somewhere in Dhaka. Join in for a day of hacking and mapping on OpenStreetMap. . This can be an event for experienced hands and first timers. Please share your ideas ASAP on OpenStreetMap Bangladesh Community FB Group.
Consumers walking past their favourite store can now receive personalised special offers, at a time – and place – that suits them.
Thanks to the latest in Geographic Information System (GIS) technology, a customer's location can be used to trigger 'push notifications' of special offers to their smartphone.
Globally, businesses are already using the cutting-edge retail technology to trigger location-based alerts to shoppers – such as discounts or advice their favourite perfume is in stock – to encourage them to spend while they are in the vicinity of a store.
A major convenience store in the United States is using the Esri retail solution – and has seen a 10 per cent rise in sales nationwide by creating an app which customers can choose to opt into.
Australian businesses are also starting to trial the Esri retail technology solution to drive sales – literally – through the door.
Channel Seven reports on this exciting new frontier of GIS technology for the retail sector.

Source: https://esriaustralia.com.au