It was valentine day few days before. What a GIS geek did that day, they played with heart, heart shaped map. Heart shaped map projections are known as cordiform map projections which is derived from the Latin "for" for heart and form for shape. In honor of Valentine's Day, here's a look at two heart-shaped map projections.
Werner Map Projection
The Werner map projection is a heart-shaped map projection originally conceived by Austrian mathematics professor Johannes Stabius (Stab) of Vienna around 1500.  Johannes Werner, a German priest from Nuremberg expanded on the projection which he described in his book Nova translatio primi libri geographiaae C. Ptolemaei published in 1514.  During the 16th and first part of the 17th century, the projection was used for world maps and some continental maps.  Cartographers  Mercator, Oronce Fine, and Ortelius used the projection in the late 16th century for maps of Asia and Africa.  During the 18th century, the projection was replaced by the Bonne map projection which is also cordiform.  Also known as the Stabius-Werner (or Stab-Werner) projection, this projection is pseudoconic equal area.
Although the beginnings of this cordiform map projection has its origins in Ptolemy's early works, the development of a heart shaped map projection during the renaissance era is not a coincidence.  The symbology of the world as a heart was closely tied to the concept of the inner emotions affecting the physical world (Brotton, 2013).
WORLD MAP CREATED IN 1514 BY ORONCE FINE (1494–1555) WHO WAS ONE OF THE FIRST FRENCH SCHOLARS TO WORK WITH CARTOGRAPHY.
Bonne Map Projection
Although named for French cartographer Rigobert Bonne who lived in the 18 century, the Bonne map projection had been in use since the early 1500s.  Like the Werner projection, this heart-shaped map projection is also pseudoconical equal-area.
THIS 1511 WORLD MAP BY BERNARD SYLVANUS IS ONE OF THE EARLIEST KNOWN TWO-COLOR CARTOGRAPHIC WORKS AND THE FIRST WESTERN MAP TO INDICATE JAPAN.
Are you a GIS geek? Do you like to play with your GPS or location/gps apps of your phone? Then lets play with that for expressing your love. You can express your love in an unique way, you might consider using your GPS and your favorite mapping application. In this Valentine let me tell you some GPS love stories shared by Morais:
Aspiring Romeos around the world have been employing their GPS tools in order to give a voice to their valentines. In 2013, Payam Rajabi decided to show how much he cared about his girlfriend, Clare, by carefully etching a heart shape onto a city map of San Francisco using his iPhone and bike. By tracking himself with his GPS while he rode, Payam inscribed his message of love while covering 27 miles and burning over 1100 calories in 2 ½ hours.
Payam and Clare were in a long-distance relationship ever since he had to move from Toronto to San Francisco. Of course, Payam had to include an elevation map of his ride, demonstrating the depth of his love as he pumped over the many hills of San Francisco. Rajabi got more out of his ordeal than just the admiration of Clare, however. He was ultimately featured in a short commercial from Verizon.
His ride inspired other romantic gestures. The Verizon commercial encouraged a man named Gary to take the idea one step further and propose to his girlfriend, Lorinda, via a GPS message using the popular Endomondo fitness application. Gary had wanted to propose for her birthday and spent a couple weeks scouting the local area for the perfect spot. The original idea was to run the route but he went with his bike instead.
In the end, Gary took the afternoon off work, rode the proposal workout, and met his girlfriend for dinner. While the two were together, Gary shared that he had gone for a bike ride and asked Lorinda to look at his ride by sharing the link to his workout. The map spelled out "Lorinda, will you marry me?" After the initial surprise, her response was, "of course" which she then mapped out herself using her own GPS.
Endomondo is not the only mapping application that has been used to propose geographically. Murphy Mack also used his bike to map out the words "marry me Emily" using Strava, a free software that cyclists like to record their routes, elevation, and speed. Like Payam, Mack rode out his proposal on the streets of San Francisco. His route covered 18 miles, took 80 minutes, and burned about 750 calories. Mack not only proposed but surrounded the words with a heart.
MURPHY MACK USED HIS BIKE AND GPS TO PROPOSE TO HIS GIRLFRIEND.
While Murphy's proposal takes Payam's heart to another level, the ultimate GPS tracking gesture of love might belong to the Japanese artist Yasushi Takahashi, also known as Yassan. In 2010, Yassan journeyed across the entire country in order to propose to his girlfriend. During the six months it took him, Yassan covered over 7,100 kilometers (about 4400 miles) mostly by walking but also using a car, bicycle, and ferry.
When Yassan arrived back at home, he plotted his route onto Google Maps, spelling out "marry me" over the large island of Honshu and a heart with an arrow through it over Hokkaido. Yassan's marriage proposal has been certified by the Guinness Book of the World Records as the world's largest GPS drawing. His journey was also featured in an ad campaign and a documentary series by Hi-Tec, a producer of hiking boots and shoes called Walkumentary.
Generating artistic drawings using GPS tracking devices goes far beyond just messages of love for Valentine's Day, however. Yassan quit his job in 2008 to pursue his passion for large-scale GPS images. Some of his other creations have included his own name, the words "still the one," and drawings of mascots. In 2014, Jeremy Wood drove over 10,000 miles across the United Kingdom to draw a GPS image for Halloween. The picture included a pumpkin in a witch's hat, a spider web, ghosts and bats with the word "Halloween" underneath.
References:
"Art for Heart's Sake: Cyclist Uses Strava App to Draw Out a Proposal to his Girlfriend – Burning 749 Calories in the Process. "Read more: http://www.dailymail.co.uk/news/article-2541249/San-Francisco-cyclist-uses-GPS-app-draw-unusual-proposal-girlfriend-taking-18-miles-burning-749-calories-process-said-Yes.html
"Endomondo Love Story: Tracking His Way to Her Heart."http://blog.endomondo.com/2014/08/05/endomondo-love-story-tracking-his-way-to-her-heart/
"From Marriage Proposals to Holiday Messages, GPS Inspires Artists." http://gpsworld.com/from-marriage-proposals-to-holiday-messages-gps-inspires-artists/
"Guy Pumps Out A Valentine — Literally." http://www.npr.org/blogs/krulwich/2013/02/13/171902975/guy-pumps-out-a-valentine-literally
"Meet the Japanese Artist Who Made the World's Largest GPS Drawing for his Marriage Proposal."http://venturebeat.com/2014/11/17/meet-the-japanese-artist-who-made-the-worlds-largest-gps-drawing-for-his-marriage-proposal/
The GPS Drawing Project seeks to display GPS-based artistry created by navigating through a landscape with a GPS unit. The resulting linear trail collected by the GPS Data Logger creates the resulting art. There is a gallery of the GPS art that the user can browse through. Each entry contains an interactive shockwave called "GPS-o-shockwave" of the GPS route as well as a description of the area the artist navigated. The entry entitled "The Brighton Elephant" gives a good perspective of GPS art. Accompanying the GPS drawing is an aerial of the area navigated with the route overlaid. The art isn't just restricted to land. Also listed in the GPS Gallery are drawings obtained by sea and by air. Most of the submittals appear to be from England, but there is also GPS art from points in Thailand, China, and South Korea.
The submittal of GPS art is open to anyone. Ascii files of the GPS points are welcome to be submitted to the site. There is also a shockwave application where you can copy and paste your GPS data points to see what your GPS-based art looks like. Still exploring for ideas on using your GPS unit? There's a GPS Games Developer Forum at Yahoo! You can also visit the GPS Games web site for more ideas.
Drawings over land, on water, and in the air by Jeremy Wood
HALLOWEEN
Guinness World Record


+
SOME GPS ART WORKS

Junior

Traverse Me

Meridians

13 Years of Mowing
____________________
If you're looking for something new to do that will get you outdoors, use your smartphone and get involved in some great activities, you've probably considered playing some sort of GPS game.
Since there are so many fun outdoor games to choose from, many of which have very similar names, it can get a little confusing. So, we've made a list of some of the best GPS games for you to try out. It's time to get stuck into some geohashing, geocaching, geodashing and a number of other games that have more than two letters different in their names.
1. Tourality
Tourality is a smartphone GPS game which has you running all over your area. You choose exactly which sort of game you're playing in advance, then Tourality does the rest. The application will lead you to the each location in turn, so all you have to do is run!
2. Geocaching (& Travel Bugs)
Geocaches are hidden packages which are mapped for people to find. Inside the packages are useful bits and pieces people have left behind, often with a book you can sign to say you've been there. Usually you are free to take something from the cache and replace it with something new for someone else. Head to a major geocaching site or get a geocaching application for your smartphone to find out where your nearest caches are.
Travel bugs and geocoins are objects with barcodes and/or serial numbers attached, usually with some sort of instructions as to where you want them to go. You leave them in a geocache and when someone finds them they read your instructions and take them to the next logical cache. The bugs are tracked via sites like geocaching.com so you can map the journey your bugs take.
3. Geohashing
Geohashing is an XKCD invention, thanks to a random comic that triggered the real life game. The nature of the geohash is such that for each day there is a new hash for every graticule (that is, the area inside four confluences). There's a wiki of people geohashing worldwide, plus plenty of geohashing apps for smartphones and the web which you can use to get the co-ordinates for the day's geohash adventure.
4. GPS Mission
Pick a GPS mission and get out there! You'll be sent on a scavenger hunt adventure to reach destinations and answer questions. Users can create their own missions for the site, involving locations of local buildings and historical sites.
5. Geodashing
Geodashing is a game where a number of random locations are chosen for each game, then the winner is the person or team who visits the most locations before the deadline. As you might imagine, online teamwork is encouraged as the locations are worldwide. Head to thegeodashing site to start playing.
6. Make Your Own Treasure Hunt
Using Locomatrix's Treasure Hunt game, you can design a treasure hunt using photos. The application will use your GSP to determine how close you are and tell you if you're getting closer to it or not. This is a good one for parents to prepare for a family outing. If you're lucky someone may have already created a treasure hunt for your area. Locomatrix also have other games designed to use GPS to bring computer games back outside, so check them out too.
Waymarking is a way to share the co-ordinates and details of interesting locations in order to build a community map of cool places. From this, you can take part in scavenger hunts using your smartphone and the waymarks near you.
8. Repurpose Outdoor Games With A GEO Twist
Try playing capture the castle, where the "flag" is a GPS co-ordinate which you then have to reach in order to win. See more ideas similar to this here.
9. Confluence Project
Confluences are the points where longitude and latitude lines meet, so naturally there is a website dedicated to seeing what each and every confluence looks like. Head to your nearest confluence using your smartphone's GPS to guide you, take a photo and stick it onconfluence.org to take part.
10. Make Your Own Geocaching Game
Either use the cache to point the way to the next co-ordinates or use a stamp or sticker system within caches to fill out a passport of locations which have been found.
The ArcGIS Editor for OpenStreetMap is designed to help ArcGIS users to become active members in the growing community of users building an open and freely available database of geographic data.
The ArcGIS Editor for OpenStreetMap allows you to use ArcGIS tools for working with OpenStreetMap data. You can install tools for ArcGIS Desktop, or a Feature Service component that leverages ArcGIS Server. The Desktop tools allow you to download data from the OpenStreetMap servers and store it locally in a geodatabase. You can then use the familiar editing environment of ArcGIS Desktop to create, modify, do network analysis, or delete data. Once you are done editing, you can post back the edit changes to OSM to make them available to all OSM users. The Server Component allows you to quickly create ArcGIS Server feature services based on OSM data for consuming and editing in a variety of map viewers.
ArcGIS Editor for OSM, 10.2.x Desktop : Download
ArcGIS Editor for OSM, 10.1 Desktop : Download
ArcGIS Editor for OSM, 10.0 Desktop : Download
Access and Use Constraints
Code for this software is distributed through the ArcGIS Editor for OSM GitHub project at https://github.com/Esri/arcgis-osm-editor. This software is distributed under the Apache 2.0 license.
See documentation for how to use the tools.
Esri recently announced the release of ArcGIS 10.3.  Brian Peterson and Robby Deming from Esri provide some insights in what the latest release of ArcGIS brings.  
At version 10.3, ArcGIS continues to innovate and push the science of geography and GIS. This release includes a series of new apps and enhancements that helps people discover, make, use, and share maps from any device, anywhere, at any time.

ArcGIS 10.3 includes new apps and enhancements that will boost your efficiency and extend the impact of your work in your organization. Here are some of the highlights:
ArcGIS Pro – Your New ArcGIS for Desktop App
ArcGIS Pro reinvents desktop GIS. This brand new 64-bit desktop app lets you render and process your data faster than ever. With ArcGIS Pro, you can design and edit in 2D and 3D, work with multiple displays and layouts, and publish maps directly to ArcGIS Online or Portal for ArcGIS, making them available on any device.
ArcGIS Pro is currently in prerelease and will be available to you as part of your ArcGIS 10.3 for Desktop license. Stay tuned for the final release in January.
More Tools for ArcMap
At 10.3, ArcMap is better than ever, with improvements such as new analysis and automation tools, infographics capabilities, and tools for managing your data more efficiently. You can even run any version of ArcMap side by side with ArcGIS Pro.
ArcGIS for Server is now a complete Web GIS
ArcGIS Online provides Web GIS, hosted by Esri. With ArcGIS 10.3, ArcGIS for Server delivers Web GIS in your own infrastructure. This is possible because ArcGIS for Server Standard or Advanced now entitles you to Portal for ArcGIS. Portal for ArcGIS unlocks the full suite of ArcGIS apps, including the new Web AppBuilder, so everyone in your organization can leverage your GIS work.
ArcGIS Online continues to add new capabilities
Read about the Q4 update to ArcGIS Online.
3D begins to roll out across the entire platform
We are continuing to realize the vision of taking 3D information and bringing it to life in browsers and applications that run on devices. At 10.3, we're delivering a whole new 3D editing and visualization experience for the Desktop with the introduction of ArcGIS Pro. What's more, you can share the 3D scenes you create in ArcGIS Pro with anyone using ArcGIS Online, which now includes a new Web Scene Viewer. A web scene can have layers, including elevation layers, imagery layers, tiled layers, and feature layers. In addition to viewing scenes created and published using ArcGIS Pro, the ArcGIS Online Web Scene viewer can also be used to create 3D Scenes by mashing up existing layers in your Web GIS, right from your browser. Content that you have already captured can be brought into these scenes and displayed so users can work with that information in 3D.
Over the next few months, subsequent releases will deliver even more 3D capabilities including the ability to publish and disseminate web scenes and layers using your own ArcGIS Servers, including support for sharing photo realistic 3D models (such as detailed buildings), and 3D-enabled mobile applications that work on devices, such as tablets and smartphones.
Real-time GIS at 10.3
At 10.3, real-time, streaming data is fully integrated into ArcGIS. The GeoEvent Extension for Server delivers improved performance with increased throughput capability, faster spatial filtering, and the ability to scale-out by adding machines to a cluster.
A suite of new spatial operators have been added to GeoEvent for even more powerful spatial filtering options, such as intersect, touches, and overlaps, all of which can be applied to any or all GeoFences.
New spatial processors are included, such as Buffer Creator, Intersector, and Symmetric Difference, delivering an unprecedented array of real-time spatial analytics. Even more real-time spatial processors are available in the Esri Gallery on GitHub. You can even create your own.
At ArcGIS 10.3, real-time web maps are here thanks to the introduction of the Stream Service and Stream Layer. Now, real-time layers can be configured, symbolized, and filtered directly in a web map and added to ArcGIS apps and custom applications.
More opportunities for developers
There are different aspects to developing with the ArcGIS platform, and 10.3 introduces new capabilities for developers across the board. First, web development gets better, more powerful, and easier with enhanced APIs, new layers for working with information such as real-time that is streamed into browsers, new visualization capabilities for working with these layers, and new functionality for working with proportional symbols and performing dot density mapping. All of this is available in the JavaScript API and in our web GIS developer model.
Another area that is new in 10.3 is the introduction of Web AppBuilder for ArcGIS, which not only allows users who are not developers to assemble applications, but also gives developers opportunities to build their own widgets that can be used with Web AppBuilder.
10.3 marks the beginning of a wave of releases that will further help developers build mobile applications using ArcGIS Runtime. This will allow developers to take advantage of the same technology that Esri uses to build our mobile applications including Collector, Explorer, andOperations Dashboard. These releases will expose the new 10.3 capabilities for working with 3D, real time, mapping, and offline to developers building native applications for the different mobile platforms.
Last but not least, developers working with ArcGIS Pro can leverage Python to automate tasks. Developers will also be able to extend ArcGIS Pro with add-ins using the ArcGIS Pro SDK for .NET. This will be available in beta during the first quarter of 201.
This map is created to show the possible spread area of the oil spill that occurred inside Sundarban Forest on 09 Dec 2014.
The bands are of each 12 km linear distance. It was assumed that with each tide, if the average tidal velocity of water is 2 km/hour the oil may spread up to 12 km. During the flow oil will move north/upstream and during ebb the oil will flow south/downstream.
The actual spill distribution will depend on many factors and hopefully will not cover full extend of this buffers. This is to provide visualization aid to anyone interested to see possible affected area.
Authors assumes no responsibility of the accuracy of the map.
A couple of weeks ago we mentioned a brand new feature on the OpenStreetMap.org homepage. On the right hand side we have a new "?" button which lets you query the map.
On openstreetmap.org, zoom in somewhere
Click the "?" button to enter query mode
Click the map on something you are interested in
Hover over the results, and choose one to find out more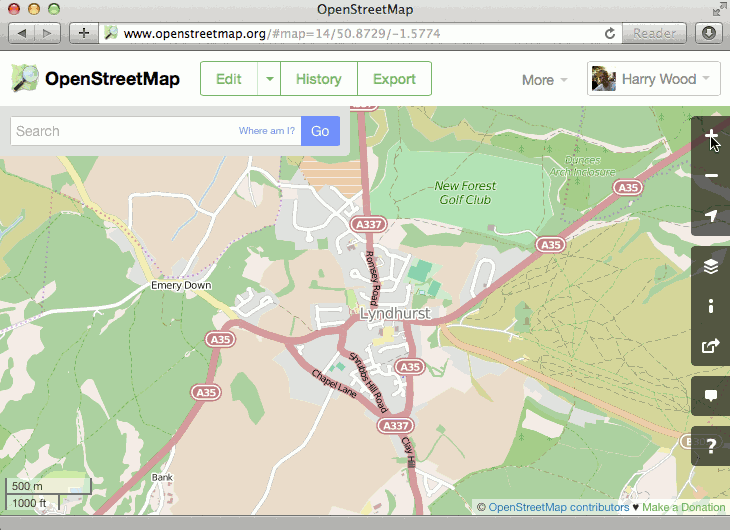 When you query a spot on the map, this new tool will retrieve nearby points of interest from the OpenStreetMap database, and let you quickly drill down to all of the detailed tagging information we have in that database.
More than a map
This new tool helps highlight a crucial point about OpenStreetMap. It's so much more than just a visual map. OpenStreetMap is a rich database of geo-located information, only some of which is visible on the "standard" view of the map. Other information is visible via different layers (such as cycle routes presented on the cycling layer) and all of the data can be viewed by enabling the "map data" layer (also on the layer picker panel) but this query tool offers a new window into the OpenStreetMap data, and a new way to discover all the details our contributors are adding to the database.
For developers this data opens up a world of possibilities. All the data is available to downloadfor free.
How to price your services to attract business and make a profit ?
Independent contractors (ICs) can charge for their services in a variety of ways, such as a fixed amount for an entire project, an hourly fee, or a sales commission.
No matter how you bill clients, however, you first need to figure out how much to charge — even if you charge a fixed fee for the whole project. You can't determine how much your fixed fee should be unless you know roughly how many hours the job will take and what you need to earn per hour to make it worth your while.
If you're experienced in your field, you probably already know what to charge because you are familiar with market conditions. However, if you're just starting out, you may have no idea what you can or should charge. If you're in this boat, try using a two-step approach to determine your hourly rate:
Calculate what your rate should be, based on your expenses.
Investigate the marketplace to see if you should adjust your rate up or down.
Calculate Your Hourly Rate
Business schools teach a standard formula for determining an hourly rate: Add up your labor and overhead costs, add the profit you want to earn, then divide the total by your hours worked. This is the minimum you must charge to pay your expenses, pay yourself a salary, and earn a profit. Depending on market conditions, you may be able to charge more for your services — or you might have to get by on less.
Determine your annual salary. To determine how much your labor is worth, pick a figure for your annual salary. This can be what you earned for doing similar work when you were an employee, what other employees earn for similar work, or how much you'd like to earn (as long as your goal is reasonable).
Compute annual overheard. Next, compute your annual overhead. Overhead includes all of the costs you incur to do business — for example:
telephone expenses
office equipment and furniture
rent and utilities
stationery and supplies
postage and delivery costs
clerical help
business insurance
business-related meals and entertainment
travel expenses
professional association memberships
legal and accounting fees, and
advertising and marketing costs — for example, the cost of a yellow pages ad, website, or brochure.
Overhead also includes the cost of your fringe benefits, such as medical insurance, disability insurance, and retirement benefits, as well as your income taxes and self-employment taxes.
If you're just starting out, you'll have to estimate these expenses or ask other ICs in the same field what they pay in overhead, then use that amount in your calculations.
Choose a profit margin. You're also entitled to earn a profit over and above your salary and overhead expenses. Your salary does not count as profit; it's one of the costs of doing business. Profit is the reward you get for taking the risks of being in business for yourself. It also provides money to expand and develop your business. Profit is usually expressed as a percentage of total costs. There is no standard profit percentage, but a 10% to 20% profit is common.
Determine billable hours. Finally, you need to determine how many hours you'll work and get paid for during the year. Assume you'll work a 40-hour week for purposes of this calculation, although you may end up working more than this. If you want to take a two-week vacation each year, you'll have a maximum of 2,000 billable hours per year (50 weeks x 40 hours). If you want to take a longer vacation, you'll have fewer billable hours.
However, you'll probably spend at least 25% to 35% of your time on tasks that you can't bill to clients, such as bookkeeping and billing, drumming up business, and upgrading your skills. This means you'll probably have only 1,300 to 1,500 hours for which you can get paid each year, if you still want that two-week vacation.
EXAMPLE
Sam, a self-employed website designer, earned $50,000 per year as an employee and feels that he should receive at least the same annual salary as an IC. He estimates that his annual overhead will be about $20,000 per year. He wants to earn a 10% profit and estimates that he'll work about 1,500 billable hours each year. Sam determines his hourly rate as follows:
He adds his salary and overhead together: $50,000 + $20,000 = $70,000.
He then multiplies this total by his 10% profit margin and adds this amount to his salary and overhead: 10% of $70,000 = $7,000; $70,000 + $7,000 = $77,000.
Finally, he divides the total by his annual billable hours to arrive at his hourly rate: $77,000 ÷ 1,500 = $51.33.
Sam rounds his hourly rate off to $50. However, depending on market conditions, Sam might be able to charge more — or he might have to accept less.
Investigate the Marketplace
It's not enough to calculate how much you'd like to earn per hour: You also need to determine whether this figure is realistic. This means that you'll have to go out into the world and find out what other ICs are charging for similar services — and what your potential clients are willing to pay. There are many ways to gather this information.
Contact a professional organization or trade association for your field. It may be able to give you good information on what other ICs are charging in your area.
Ask other ICs what they charge. You can communicate pricing concerns with other ICs over the Internet.
Talk to potential clients and customers — for example, attend trade shows and business conventions.
You may discover that your ideal hourly rate is higher than what other ICs are charging in your area. However, if you're highly skilled and performing work of unusually high quality, don't be afraid to ask for more than other ICs with lesser skills charge. Lowballing your fees won't necessarily get you business. Many potential clients believe that they get what they pay for — and are willing to pay more for quality.
One approach is to start out charging a fee that is at the lower end of the spectrum for ICs performing similar services, then gradually increase it until you start meeting price resistance. Over time, you should be able to find a payment method and fee structure that enable you to get enough work while adequately compensating you for your services.
Make a Written Fee Agreement
Once you decide what you will charge, make sure you enter into a written fee agreement with every client. (If you choose to charge a fixed fee for a project, multiply your estimated hours for a job by your chosen hourly rate.)
The World Bank recently released its extensive guide to planning an Open Cities mapping project, which was proudly co-authored by HOT. 
The Open Cities Project began two years ago under the World Bank's Global Facility for Disaster Reduction and Recovery (GFDRR), with initial locations in Nepal, Bangladesh, and Sri Lanka. The aim is to promote open data ecosystems that support disaster risk management in high risk locations.
Of note in the Open Cities guide (available here) is a detailed approach to planning, managing, and reviewing  mapping projects in which implementers intend to map a finite area using a specific data model. Using OpenStreetMap as the platform for data collection, the guide explains the methodology of mapping primarily in organizational terms, with less focus on the detailed technical aspects of tools like JOSM and Field Papers. Extensive experience and lessons learned from the first Open Cities projects, as well as HOT activities, will help inform future efforts.
It's great to see how many variations of OSM mapping projects have emerged in the past years under different auspices and with varying objectives and methodologies. I think Open Cities puts the right focus on one of the core philosophies of all this work, which is to foster buy-in and collaboration among a wide range of actors, as the power and value of open data gains more and more traction.
This book offers insights and practical knowledge for anyone interested in organizing a large mapping project. I'm pleased that HOT has been able to collaborate on this, especially in being able to combine our experience with the important work of GFDRR. And I look forward to the future development of more and more open mapping activities! See the Abstract below:
ABSTRACT
This guide offers a comprehensive understanding of the design and implementation of an Open Cities mapping project for both practitioners in the field and those interested in a higher-level understanding of the process. The guide's content is based on experience in implementing the initial Open Cities projects in Bangladesh, Nepal, and Sri Lanka as well as on previous mapping project experience. Where relevant, it provides relevant examples from those projects in the text and full case studies at the end of guide. The Open Cities Project launched its efforts in three cities: Batticaloa, Sri Lanka; Dhaka, Bangladesh; and Kathmandu, Nepal. These cities were chosen for: 1) their high levels of disaster risk; 2) the presence of World Bank-lending activities related to urban planning and disaster management that would benefit from access to better data; and 3) the willingness of government counterparts to participate in and help guide the interventions. Chapter 2, "Project Design and Preparation," covers how a project design process begins: by identifying partners, clarifying a project's objectives and scope, assembling a team of managers and mappers, and assessing the necessary resources for mapping. Chapter 3, "Getting Started," then describes the steps after the initial planning stage: how to locate an appropriate workspace, assess equipment costs, and prepare staff training. Chapter 4, "Implementation and Supervision," takes a practical look at data collection techniques from both the organizational and technical perspectives. It also addresses common challenges and mechanisms for quality control and reporting. Finally, chapter 5 examines the lessons learned from previous Open Cities projects and considers future improvements to the overall project design.
Source: http://hot.openstreetmap.org/