The ArcGIS Editor for OpenStreetMap is designed to help ArcGIS users to become active members in the growing community of users building an open and freely available database of geographic data.
The ArcGIS Editor for OpenStreetMap allows you to use ArcGIS tools for working with OpenStreetMap data. You can install tools for ArcGIS Desktop, or a Feature Service component that leverages ArcGIS Server. The Desktop tools allow you to download data from the OpenStreetMap servers and store it locally in a geodatabase. You can then use the familiar editing environment of ArcGIS Desktop to create, modify, do network analysis, or delete data. Once you are done editing, you can post back the edit changes to OSM to make them available to all OSM users. The Server Component allows you to quickly create ArcGIS Server feature services based on OSM data for consuming and editing in a variety of map viewers.
ArcGIS Editor for OSM, 10.2.x Desktop : Download
ArcGIS Editor for OSM, 10.1 Desktop : Download
ArcGIS Editor for OSM, 10.0 Desktop : Download
Access and Use Constraints
Code for this software is distributed through the ArcGIS Editor for OSM GitHub project at https://github.com/Esri/arcgis-osm-editor. This software is distributed under the Apache 2.0 license.
See documentation for how to use the tools.
Esri recently announced the release of ArcGIS 10.3.  Brian Peterson and Robby Deming from Esri provide some insights in what the latest release of ArcGIS brings.  
At version 10.3, ArcGIS continues to innovate and push the science of geography and GIS. This release includes a series of new apps and enhancements that helps people discover, make, use, and share maps from any device, anywhere, at any time.

ArcGIS 10.3 includes new apps and enhancements that will boost your efficiency and extend the impact of your work in your organization. Here are some of the highlights:
ArcGIS Pro – Your New ArcGIS for Desktop App
ArcGIS Pro reinvents desktop GIS. This brand new 64-bit desktop app lets you render and process your data faster than ever. With ArcGIS Pro, you can design and edit in 2D and 3D, work with multiple displays and layouts, and publish maps directly to ArcGIS Online or Portal for ArcGIS, making them available on any device.
ArcGIS Pro is currently in prerelease and will be available to you as part of your ArcGIS 10.3 for Desktop license. Stay tuned for the final release in January.
More Tools for ArcMap
At 10.3, ArcMap is better than ever, with improvements such as new analysis and automation tools, infographics capabilities, and tools for managing your data more efficiently. You can even run any version of ArcMap side by side with ArcGIS Pro.
ArcGIS for Server is now a complete Web GIS
ArcGIS Online provides Web GIS, hosted by Esri. With ArcGIS 10.3, ArcGIS for Server delivers Web GIS in your own infrastructure. This is possible because ArcGIS for Server Standard or Advanced now entitles you to Portal for ArcGIS. Portal for ArcGIS unlocks the full suite of ArcGIS apps, including the new Web AppBuilder, so everyone in your organization can leverage your GIS work.
ArcGIS Online continues to add new capabilities
Read about the Q4 update to ArcGIS Online.
3D begins to roll out across the entire platform
We are continuing to realize the vision of taking 3D information and bringing it to life in browsers and applications that run on devices. At 10.3, we're delivering a whole new 3D editing and visualization experience for the Desktop with the introduction of ArcGIS Pro. What's more, you can share the 3D scenes you create in ArcGIS Pro with anyone using ArcGIS Online, which now includes a new Web Scene Viewer. A web scene can have layers, including elevation layers, imagery layers, tiled layers, and feature layers. In addition to viewing scenes created and published using ArcGIS Pro, the ArcGIS Online Web Scene viewer can also be used to create 3D Scenes by mashing up existing layers in your Web GIS, right from your browser. Content that you have already captured can be brought into these scenes and displayed so users can work with that information in 3D.
Over the next few months, subsequent releases will deliver even more 3D capabilities including the ability to publish and disseminate web scenes and layers using your own ArcGIS Servers, including support for sharing photo realistic 3D models (such as detailed buildings), and 3D-enabled mobile applications that work on devices, such as tablets and smartphones.
Real-time GIS at 10.3
At 10.3, real-time, streaming data is fully integrated into ArcGIS. The GeoEvent Extension for Server delivers improved performance with increased throughput capability, faster spatial filtering, and the ability to scale-out by adding machines to a cluster.
A suite of new spatial operators have been added to GeoEvent for even more powerful spatial filtering options, such as intersect, touches, and overlaps, all of which can be applied to any or all GeoFences.
New spatial processors are included, such as Buffer Creator, Intersector, and Symmetric Difference, delivering an unprecedented array of real-time spatial analytics. Even more real-time spatial processors are available in the Esri Gallery on GitHub. You can even create your own.
At ArcGIS 10.3, real-time web maps are here thanks to the introduction of the Stream Service and Stream Layer. Now, real-time layers can be configured, symbolized, and filtered directly in a web map and added to ArcGIS apps and custom applications.
More opportunities for developers
There are different aspects to developing with the ArcGIS platform, and 10.3 introduces new capabilities for developers across the board. First, web development gets better, more powerful, and easier with enhanced APIs, new layers for working with information such as real-time that is streamed into browsers, new visualization capabilities for working with these layers, and new functionality for working with proportional symbols and performing dot density mapping. All of this is available in the JavaScript API and in our web GIS developer model.
Another area that is new in 10.3 is the introduction of Web AppBuilder for ArcGIS, which not only allows users who are not developers to assemble applications, but also gives developers opportunities to build their own widgets that can be used with Web AppBuilder.
10.3 marks the beginning of a wave of releases that will further help developers build mobile applications using ArcGIS Runtime. This will allow developers to take advantage of the same technology that Esri uses to build our mobile applications including Collector, Explorer, andOperations Dashboard. These releases will expose the new 10.3 capabilities for working with 3D, real time, mapping, and offline to developers building native applications for the different mobile platforms.
Last but not least, developers working with ArcGIS Pro can leverage Python to automate tasks. Developers will also be able to extend ArcGIS Pro with add-ins using the ArcGIS Pro SDK for .NET. This will be available in beta during the first quarter of 201.
This map is created to show the possible spread area of the oil spill that occurred inside Sundarban Forest on 09 Dec 2014.
The bands are of each 12 km linear distance. It was assumed that with each tide, if the average tidal velocity of water is 2 km/hour the oil may spread up to 12 km. During the flow oil will move north/upstream and during ebb the oil will flow south/downstream.
The actual spill distribution will depend on many factors and hopefully will not cover full extend of this buffers. This is to provide visualization aid to anyone interested to see possible affected area.
Authors assumes no responsibility of the accuracy of the map.
A couple of weeks ago we mentioned a brand new feature on the OpenStreetMap.org homepage. On the right hand side we have a new "?" button which lets you query the map.
On openstreetmap.org, zoom in somewhere
Click the "?" button to enter query mode
Click the map on something you are interested in
Hover over the results, and choose one to find out more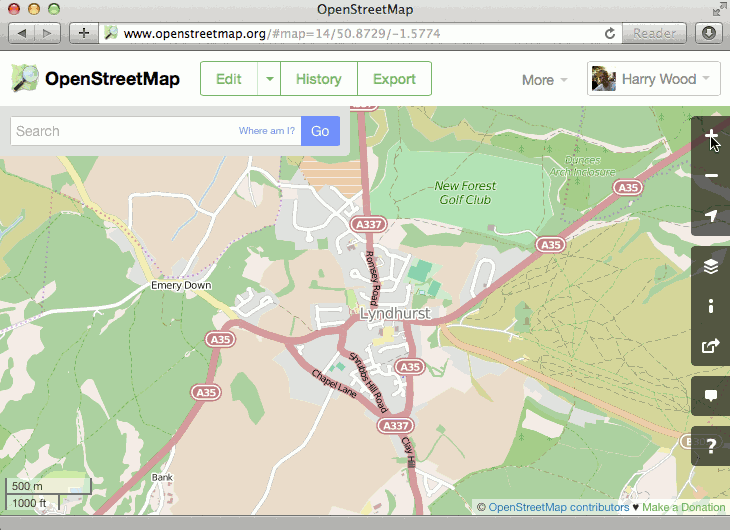 When you query a spot on the map, this new tool will retrieve nearby points of interest from the OpenStreetMap database, and let you quickly drill down to all of the detailed tagging information we have in that database.
More than a map
This new tool helps highlight a crucial point about OpenStreetMap. It's so much more than just a visual map. OpenStreetMap is a rich database of geo-located information, only some of which is visible on the "standard" view of the map. Other information is visible via different layers (such as cycle routes presented on the cycling layer) and all of the data can be viewed by enabling the "map data" layer (also on the layer picker panel) but this query tool offers a new window into the OpenStreetMap data, and a new way to discover all the details our contributors are adding to the database.
For developers this data opens up a world of possibilities. All the data is available to downloadfor free.